Tunisia Attack: Spanish couple survives terrorist massacre by hiding all night in museum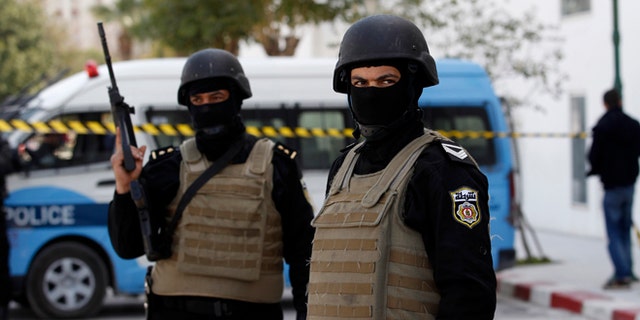 They were supposed to be celebrating their recent wedding. Instead, a Spanish couple spent Wednesday night cowering inside a Tunisian museum after gunmen wielding assault rifles stormed through the museum, shooting everyone in their path.
Spain's foreign ministry confirmed that the Spanish tourists huddled inside the building during the terrorist attack, which left 23 people dead.
Juan Carlos Sánchez and Cristina Rubio, a nurse who is four months pregnant, emerged from the museum just after dawn on Thursday morning, according to Spain's Foreign Minister José Manuel García-Margallo.
Spanish consular officials and police had searched all night for the couple, who were neither listed among the dead nor among those found safe after Wednesday's attack on the National Bardo Museum in Tunis. The couple had been married on Sunday and were in Tunisia on their honeymoon.
Sánchez and Rubio were reported missing when they did not return to their cruise ship following the attack. Spanish embassy officials visited morgues, hospitals, a number of hotel along with the Spanish consulate in Tunis, but were unable to locate the newlyweds.
While the couple has not made any statements regarding their time trapped in the museum, García-Margallo informed reporters in Tunis that the couple was unharmed during the attack and recuperating from their ordeal, according to Spanish newspaper El País.
Another Spanish couple was killed in the attack. Antoni Cirera Pérez and Dolores Sánchez Rami were celebrating their 50th wedding anniversary and it was the first time they had travelled outside Spain. Their two children were flying to Tunis along with a terror attack counselor to retrieve their parents' bodies.
Tunis is a popular port of call for cruise ships from Spain, with many boats making stops at Golette, on the outskirts of Tunis. A number of cruise ships – including the one that Sánchez and Rubio were traveling on, have already embarked from Tunis and headed back to Spain in the wake of the terrorist attack.
Italian cruise line Costa Crociere has canceled all its upcoming stops in Tunisian ports following the attack at the Bardo museum in Tunis.
Costa, a unit of Miami-based Carnival Corp., had a group of passengers in the Bardo when Wednesday's attack occurred. Its Fascinosa ship left port Thursday morning, bound for Palma di Mallorca, with 13 passengers left behind.
The attack Wednesday on Tunisia's National Bardo Museum left 23 dead, scores wounded and threatens both Tunisia's fledgling democracy and its struggling tourism industry. It was the worst attack at a tourist site in Tunisia in years.
Razor wire ringed the museum Thursday and security forces guarded major thoroughfares in Tunis, the capital, as authorities hunted for two or three more people believed to have been involved in the attack.
Wednesday's two attackers burst from a vehicle wielding assault rifles and began gunning down tourists climbing out of buses. The attackers then charged inside to take hostages before being killed in a firefight with security forces.
Tunisian Prime Minister Habib Essid, in an interview with France's RTL radio, said Tunisia was working with other countries to learn more about the attackers, identified as Yassine Laabidi and Hatem Khachnaoui. They were killed by security services in a raid.
He said Laabidi had been flagged to intelligence, although not for "anything special."
No one has claimed responsibility for the attack. Tunisia has faced scattered extremist violence, and a disproportionately large number of Tunisians have joined Islamic State fighters in Syria and Iraq.
Health Minister Said Aidi said the death toll rose Thursday to 23 people, including 18 foreign tourists, with almost 50 people wounded. Five Tunisians were killed, including two attackers. Aidi said all the injuries came from bullet wounds, and that several victims were brought in without identity documents.
Moncef Hamdoun, an official with the Charles Nicolle hospital where many victims were taken, said seven of the dead remain unidentified. He listed the dead as three Japanese women, the Spanish couple, a Colombian woman, an Australian man, a British woman, a Belgian woman, a Frenchman and a Polish man.
Tunisians overthrew their dictator in 2011 and kicked off the Arab Spring that spread across the region. While the uprising built a new democracy, the country has also struggled with economic problems and extremism, though violence has not targeted tourist sites.
"This new act of barbarity sounds an alarm," French Prime Minister Manuel Valls said. "It announces that the world has changed."
The Associated Press contributed to this report.
Like us on Facebook
Follow us on Twitter & Instagram