Trump meets with Utah man who's back in US after long captivity in Venezuela
NEWYou can now listen to Fox News articles!
Joshua Holt, who flew back to the U.S. on Saturday after being jailed in Venezuela since 2016, met with President Donald Trump at the White House following his return.
Trump said it was "a great honor" to have the Holts there after "a very tough ordeal in a Venezuelan prison."
It's "amazing that you were able to take it," Trump said.
The president praised the lawmakers involved in securing Holt's return, including U.S. Sen. Bob Corker, R-Tenn., who said in a statement earlier in the day that he was accompanying the Holts back to the U.S.
"We're home," Corker tweeted Saturday evening. "Honored to greet Josh Holt's parents at the airport. So happy for them."
The 26-year-old's long-awaited arrival comes after he spent roughly two years incarcerated in Venezuela after traveling to the country in the summer of 2016 to marry Thamara Candelo. The pair planned to return to the U.S. after their nuptials, but were jailed in El Hilcolde on what human rights groups said were largely trumped-up charges.
UTAH MAN INCARCERATED IN VENEZUELA JAIL IS ON HIS WAY HOME, OFFICIALS SAY
While at the White House, Holt said he was "overwhelmed with gratitude" to those who worked for his freedom. He also thanked his wife for supporting him through the "very difficult two years."
Holt's mother, Laurie, also thanked Trump and the lawmakers who brought her son home.
Following Holt's return to the U.S., the office of U.S. Sen. Orrin Hatch, R-Utah, who previously said he had worked for "the last two years" on securing a release, shared an emotional video of Holt reuniting with his family.
An earlier video was also shared by the office showing Hatch hugging members of Holt's family before going to the tarmac.
The family was expected to meet with President Trump at the White House Saturday evening, according to the president, who earlier tweeted that he was "looking forward" to it.
A senior administration official confirmed to Fox News that "nothing" was offered in exchange for Holt's release.
Early Sunday, the office of White House press secretary Sarah Sanders released the following statement: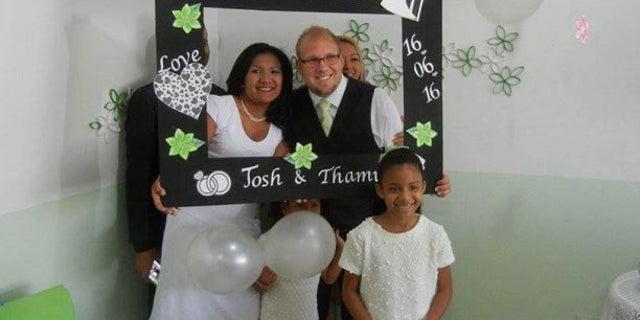 "The United States thanks the Maduro regime for releasing the unjustly detained United States citizen, Joshua Holt, and his Venezuelan wife.
"The release of Joshua Holt does not change United States policy. The Maduro regime must call free, fair, and transparent elections, consistent with its constitution. The election process that occurred on May 20 was illegitimate. The regime must allow all Venezuelans and political parties to participate freely in new elections and the democratic process. It must release all political prisoners, and must accept desperately needed international humanitarian aid for Venezuela's dying citizens.
"The release of Joshua Holt does not change United States policy. The Maduro regime must call free, fair, and transparent elections, consistent with its constitution."
"As demonstrated by the President's Executive Order of May 21, the United States will continue to use all available tools and options to pressure the Maduro regime to abide by democratic norms, and will continue to build a broad international coalition of like-minded partners who want to see the return of democracy to the people of Venezuela."
Venezuelan authorities claim Holt and his wife were stockpiling weapons, and have suggested they were part of a U.S. plan to overthrow President Nicolas Maduro. But witnesses say they saw Venezuelan police, accused of demanding $10,000 from Holt and Candelo, plant weapons just before arresting the couple -- and announcing the discovery of the arms.
UTAH MAN IN VENEZUELAN JAIL SAYS PRISON 'HAS FALLEN,' TAKEN OVER BY PEOPLE WANTING TO KILL HIM
Laurie Holt, Joshua's mother, told Fox News in February that her son's ordeal has taken an emotional and physical toll on her. A week ago, the 7-year-old daughter of Candelo from a previous marriage arrived in the United States on a humanitarian visa to live with Joshua Holt's parents in Utah.
Upon Holt's return, Vice President Mike Pence tweeted, saying he was "very glad that Josh Holt is now back home with his family – where he has always belonged."
"Sanctions continue until democracy returns to Venezuela," Pence added.
U.S. Rep. Mia Love, R-Utah, also tweeted after Holt's flight landed.
"Josh Holt is on American soil again!" Love tweeted. "His flight just landed in DC. Looking forward to seeing him!"
Fox News' Matt Leech and Kathleen Joyce contributed to this report.