Trump and Japan's Abe expand friendship as tensions mount with North Korea and China
NEWYou can now listen to Fox News articles!
During last year's contentious presidential campaign, Donald Trump raised concerns among officials in Tokyo about the fate of the decades-long alliance between the United States and Japan. His comments came in response to questions about American military spending in the Asian nation and the mounting trade deficit between the two countries.
But with less than 100 days in office, Trump – and his Japanese counterpart, Prime Minister Shinzo Abe – have eased the worries about any souring of relations between the longtime allies after a series of meetings in Trump Tower, the White House and Mar-a-Lago.
The gravitation of Trump and Abe toward each other comes as their two countries look to present a unified front in an increasingly volatile region where an unstable North Korea and an expanding China have become major foreign policy issues for leaders in Washington and Tokyo.
"So far the personal diplomacy has been really successful in this case," Mireya Solís, a senior fellow at the Brookings Center for East Asian Policy Studies, told Fox News of Trump and Abe. "I think on both sides there is a desire to make the relationship work."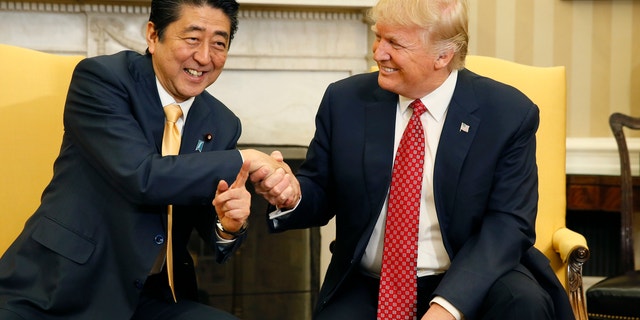 The need to make the relationship work has been particularly apparent from Abe, who visited with then-President-elect Trump just days after he won the election and has been in frequent contact with him since Trump took office in January. Last week the two world leaders spoke twice over the phone – once for 45 minutes to discuss North Korea's ballistic missile launches and another time to talk about the U.S. missile strike in Syria last Thursday.
North Korea and Supreme Leader Kim Jong-un's mounting nuclear ambitions has cast a pall over much of East Asia with its recent missile tests and caused the militaries of Japan and South Korea to go on high alert. The mounting threat from North Korea forced Trump to send the USS Carl Vinson Carrier Strike Group to the Korean peninsula – a maneuver that drew a warning of "catastrophic consequences" from Pyongyang but widespread praise from Tokyo and Seoul.
"It's important to secure a U.S. deterrent force amid the increasingly severe security climate in the region," Japan's Chief Cabinet Secretary Yoshihide Suga said at a press conference on Monday, according to the Japan Times.
The heightened presence of U.S. warships in the waters off of East Asia has been a hallmark of the nascent Trump administration. The day after Trump was sworn into office, the U.S. Navy kicked off joint missile detection and tracking drills with Japan and South Korea in the Sea of Japan and in March U.S. and Japanese forces held military exercises using six Osprey transport aircraft on the main island of Honsu.
Japan has also dispatched its largest warship – the Izumo helicopter carrier – to rendezvous with the Carl Vinson group in a mutual show of force that could involve helicopter landings on each other's ships, as well as communication drills.
While Japanese officials have said that both Tokyo and Washington were seeking to press North Korea to reach a peaceful solution to the crisis, neither side has ruled out a military response. Trump has said he is considering "all options on the table" and, since taking office, Abe has stretched the limits of Japan's post-war, pacifist constitution by building up its naval forces in an effort to assert its influence beyond its own territory.
"More military build ups have happened under Abe, but there is still reluctance on the part of the public to reform the constitution in regards to the military," Solís said. "The U.S., however, has always encouraged Japan to be more proactive and deepen its security bonds.
Since the beginning of the Cold War, Japan has been the U.S.'s closest ally in Asia and has helped the region become one of the most dynamic economic zones in the world, but in recent years lawmakers in Tokyo have begun to worry that this relationship may be eclipsed as their cohorts in Washington focus priorities on China.
"Japan watches U.S.-Chinese relations very closely and there is the constant worry that Japanese interest will be sold out for some grand bargain with China," Brian Harding, the director for East and Southeast Asia at the Center for American Progress, told Fox News.
In his first months in office the Trump administration has taken a more active stance toward China than former President Barack Obama did – slamming the country for inaction against North Korea, accusing Beijing of currency manipulation and reaffirming Washington's commitment to defend Japan and its territories if attacked.
Last November, China flew a pair of nuclear-capable bombers around Taiwan for the first time, as the Japanese scrambled eight F-15 fighter jets to intercept the Chinese flight while it was circling the island. China in December also placed hundreds of surface-to-air missiles on Hainan Island off mainland China, which intelligence officials say could one day be moved to China's man-made islands in the South China Sea to better defend them.
Trump's a dealmaker and a self-described unpredictable person. So there is always the worry with the Japanese that a deal with China could hurt Japan.
And last month, Abe announced plans to legally designate the Senkaku Islands – known in China as the Diaoyu Islands – as inhabited border territories, as part of a plan to secure the country's sprawling archipelago of around 6,800 islands from the dual threat of territory-hungry neighbors and a long-term decrease in population.
"I made clear that our long-standing policy on the Senkaku Islands stands. The U.S. will continue to recognize Japanese administration of the islands," U.S. Defense Secretary James Mattis during his trip to Japan in February. "As such, Article 5 of the U.S.-Japan Security Treaty applies."
Still relations between Washington and Beijing appear to be warming in the wake of a meeting between Trump and Chinese President Xi Jinping. Following the summit at Mar-a-Lago, China stopped receiving coal imports from North Korea, it absented on a U.N. resolution condemning a Syrian chemical weapons attack and Xi said his country is willing to work with Washington on peacefully ending North Korea's nuclear weapons program.
For Trump's part, he backed off from a campaign pledge to declare China to be a currency manipulator - an action that could have led to higher tariffs on Chinese goods – and repeated that trade concessions could be on the table for more cooperation on North Korea.
The cooperative tone struck between Trump and Xi might be good for regional stability, but it still worries Japanese officials that the U.S. leader's shifting tone on China could spell trouble for their country.
"Trump's a dealmaker and a self-described unpredictable person," Harding said. "So there is always the worry with the Japanese that a deal with China could hurt Japan."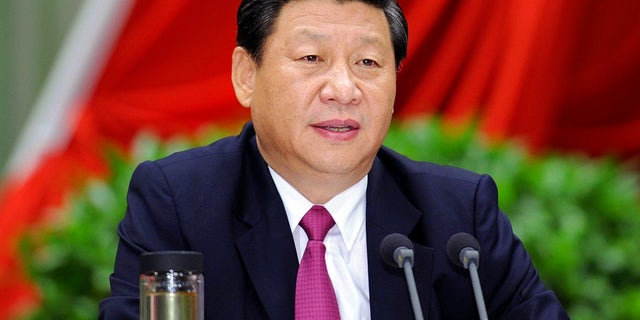 Since Trump has taken office, the U.S. and Japan have had frank discussions about regional security, but one major issue between the two countries has been noticeably off the table: trade.
Much like his criticism of China, Trump on the campaign trail railed against Japan for the trade deficit and Japan taking away American manufacturing jobs. Shortly after taking office, he also abruptly pulled the U.S. out of the planned Trans-Pacific Partnership trade deal.
A senior Japanese government spokesman told Reuters that during Abe's visit to the U.S. in February the two leaders did not discuss currency issues and that Trump did not request a bilateral trade deal, but a U.S.-Japan economic dialogue led by Japanese Deputy Prime Minister Taro Aso and Vice President Mike Pence to address fiscal and monetary policies as well as infrastructure projects and trade is slated to begin next week.
"Japan is obviously more comfortable with has happened on the security side since Trump took office and less so in regards to economics," Harding said.