Tropical Storm Maria strengthens into hurricane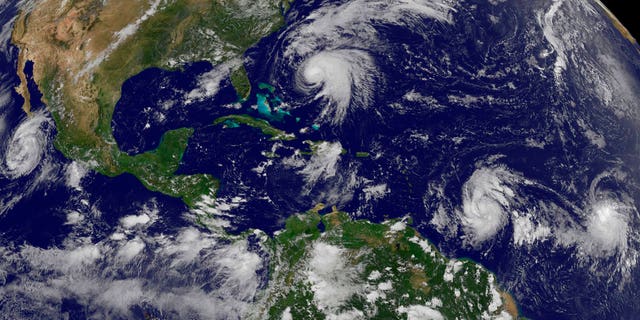 NEWYou can now listen to Fox News articles!
Less than two weeks after Hurricane Irma left a path of destruction in the Caribbean, Tropical Storm Maria strengthened into a hurricane Sunday on its way toward the Leeward Islands.
The storm became a Category 1 hurricane in the Atlantic Ocean on Sunday afternoon. It was 140 miles east-northeast of Barbados with maximum sustained winds of 75 mph, the National Hurricane Center said in its 5 p.m. advisory.
A hurricane warning – meaning hurricane conditions could affect the area within 36 hours – was issued for St. Kitts, Nevis, Montserrat Guadeloupe and Dominica.
It's unclear if Maria would ultimately hit the U.S.
Maria holds a path similar to Hurricane Irma, which made landfall in the Caribbean islands as a Category 5 system. The storm could also hit Puerto Rico, the Dominican Republic and Haiti, where residents are also still trying to return to normalcy after Irma pummeled the land with heavy rain and gusty winds.
Thousands of people across the northern Caribbean are still without power after many of the islands were left looking like devastated wasteland after Irma. Bryan Barnes, chief of the St. John Rescue on the U.S. Virgin Island of St. John, told Fox News recovery has "been a mess."
"There wasn't a house that wasn't impacted," Barnes added.
CARIBBEAN ISLANDS RAVAGED BY HURRICANE IRMA VOW TO COME BACK STRONGER THAN EVER
Former Florida Gov. Jeb Bush also tweeted a warning about the tropical storm, saying, "Maria is coming" with a link to the NHC advisory.
As Maria gathers strength in the Atlantic, Hurricane Jose continues its odd path northward off the U.S. Atlantic Seaboard, possibly bringing dangerous surf and rip currents to the East Coast by midweek. Jose is expected to stay a hurricane through Tuesday after it regained Category 1 strength on Friday. It briefly weakened to a tropical storm Thursday night.
Meanwhile, Tropical Storm Lee slipped back to tropical depression force in the Atlantic and Tropical Storm Otis was gaining force fall out in the Pacific. Neither threatened land.
The Associated Press contributed to this report.