Tropical Storm Cristobal moves north away from Bahamas after flooding parts of Caribbean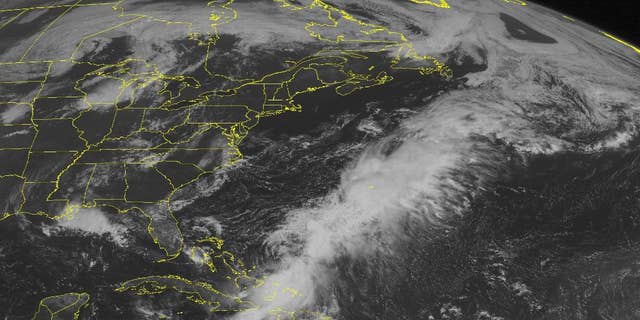 KINGSTON, Jamaica – The spinning center of Tropical Storm Cristobal was slowly moving away from the central Bahamas on Monday, leaving behind severe flooding that marooned several communities across a swath of soaked Caribbean islands.
Cristobal was moving slowly, erratically north-northeastward as it pulled away from the Bahamas but it was forecast to curve away from the U.S. East Coast.
The U.S. National Hurricane Center said strengthening is expected and Cristobal could become a hurricane on Wednesday as it moves over open waters west of the mid-Atlantic British territory of Bermuda.
Flight operations were suspended at the main airport in the drenched Turks & Caicos Islands. Government offices and banks were shuttered on the low-lying islands that are highly vulnerable to flooding from heavy rains and storm surge, and authorities said many homes were flooded, especially on North and Middle Caicos islands.
"It is absolutely shocking and horrifying to see people's lives impacted in this way," Minister of Border Control and Labor Ricardo Gardiner said Monday.
In the Bahamas, government meteorologists warned that severe thunderstorms from the storm's outer bands posed threats to Mayaguana, Acklins and a few other islands and they called for boaters to return to port and residents to stay indoors.
There was no immediate report of any injuries or deaths in the Bahamas or Turks & Caicos. But on the Caribbean island of Hispaniola, one Dominican man drowned and two Haitians went missing over the weekend when they were caught up in rivers swollen by Cristobal's driving rains.
Some 3,600 people were evacuated from communities in the Dominican Republic, according to Jose Manuel Mendez, director of the country's emergency operations center. The ground floor of public hospital in San Pedro de Macoris was flooded and patients were moved to upper floors.
In neighboring Haiti, roughly 640 families lost their flimsy homes during the passage of the storm, according to Luckecy Mathieu, a civil protection coordinator.
The storm earlier soaked islands in the eastern Caribbean and downed power lines in Puerto Rico, leaving more than 20,000 people without power and thousands without water service.
The National Hurricane Center reported Cristobal was centered about 120 miles (195 kilometers) east-northeast of San Salvador on Monday and was tracking north-northeast near 2 mph (4 kph).
Meanwhile in the Pacific, Hurricane Marie was moving northwest as a major Category 4 storm, bringing high wave but no threat of a direct hit to Mexico's Pacific coast.
Marie's sustained winds were near 145 mph (230 kph) with weakening expected over the next two days. It was centered about 470 miles (755 kilometers) southwest of the southern tip of Mexico's Baja California Peninsula.
___
David McFadden on Twitter: http://twitter.com/dmcfadd