Tribal clashes spread in Sudan's Darfur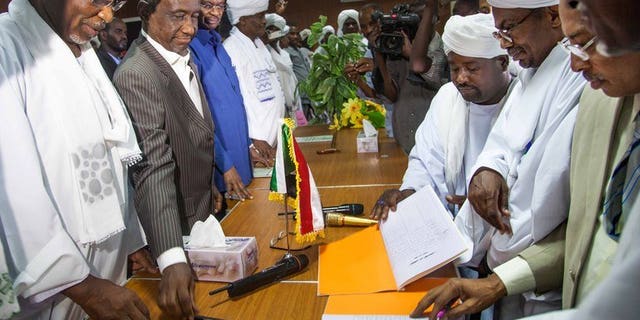 NEWYou can now listen to Fox News articles!
KHARTOUM (AFP) – Fighting between rival Arab tribes in Sudan's Darfur region spread on Monday, after clashes last week left scores dead, a leader of one of the tribes said.
"This morning there was fighting in the Garsila area. It's still going on," said Ahmed Khiri, a Misseriya tribal chief.
The rival Salamat tribe could not immediately be reached for comment and Khiri had no further details.
Garsila is about 150 kilometres (90 miles) north of the Abugaradil area, where fighting between the two tribes on Friday and Saturday killed 94 people, mostly Salamat, Khiri said at the weekend.
The Salamat said 52 of their men died during those clashes in the southwest of Darfur on the borders with Chad and the Central African Republic.
Inter-tribal and inter-ethnic fighting has been a major source of violence in Darfur this year, leading to the displacement of an estimated 300,000 people in the first five months alone, the African Union-UN peacekeeping mission in Darfur (UNAMID) says.
That is more than in the previous two years combined.