Tragic bond: Flight 93 families pay tribute to Paris terrorism victims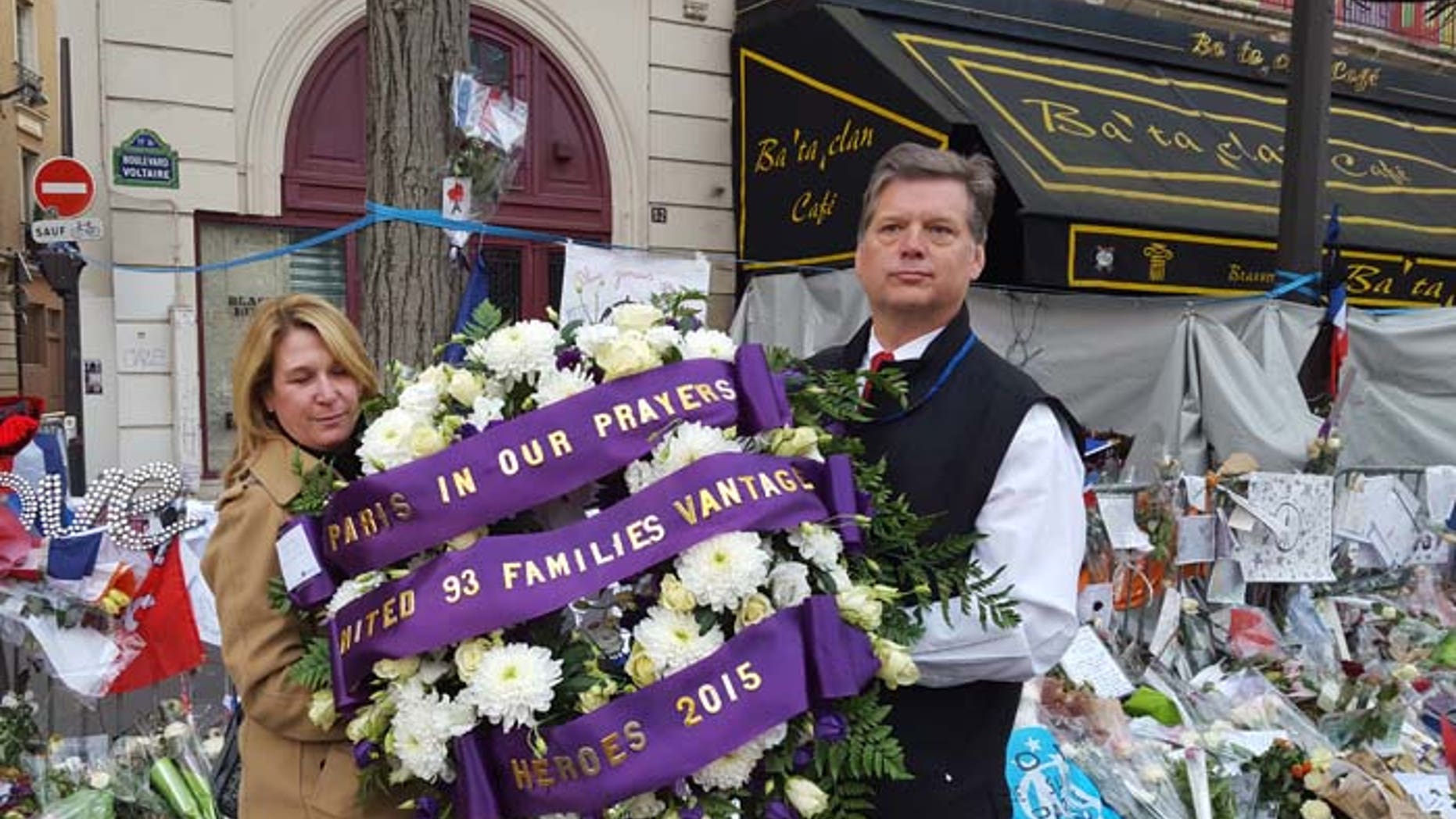 When Hamilton Peterson watched the horror of the Paris terror attacks unfold on live television, his mind drifted back to Sept. 11, 2001, when he learned that his father Donald and his step-mother Jean were among the 33 passengers and seven crew members killed when United Airlines Flight 93 crashed in a Pennsylvania field.
"My family was directly impacted by the attacks on America on Sept. 11, and I understood the pain of those Parisiens who lost their loved ones," said Hamilton, of Bethesda, Md. "I felt that we as Americans needed to stand up for the people of France and honor those who lost their lives and those others who are now bringing the fight to ISIS, the enemy of the civilized world."
Peterson and relatives of more than a dozen victims of the terror attack aboard United Flight 93 boarded planes in the U.S. bound for Paris this week to show solidarity for other victims and survivors of terror. Their trip was sponsored by Boston based Vantage Deluxe World Travel.
"We all need to support Paris right now and show the rest of the world that love will always conquer hate."
"We invited these families as part of our Vantage Heroes program," said Patricia Lewis, owner of Vantage Travel, which has sponsored similar trips for survivors of the Boston Marathon Bombings, and families of firefighters killed in the Yarnell Hill, Arizona wildfire in 2013. "Our trip had been pre-scheduled, and in light of the Paris attacks, we weren't sure if these families still wanted to go. But we found out that they were more resolute than ever to make this trip."
Peterson led the group of United 93 families on a pilgrimage to The Bataclan music hall in Paris where ninety of the 130 terror victims were killed in the Nov. 13 attacks. The group laid a large wreath at the overflowing memorial outside the Bataclan which read, "Paris in Our Prayers: Flight United 93 Vantage Heroes."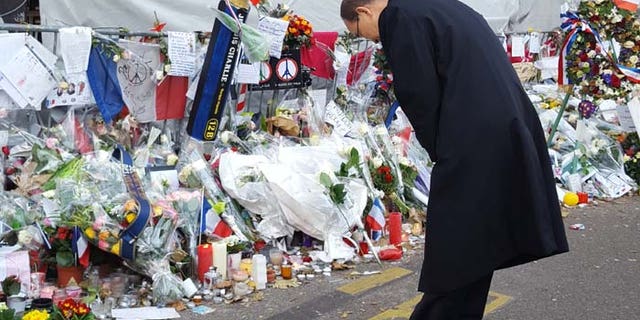 Deborah Borza of Columbia, Md., whose 20-year-old daughter Deora Bodley was the youngest passenger killed on Flight United 93, was profoundly moved by the sea of flowers and tributes honoring those murdered at The Bataclan.
"I kept relighting candles that had been blown out. I remember the outpouring of support that our families received from total strangers after 9/11," Borza said. "I feel empathy for those families who lost loved ones here in Paris. We all need to support Paris right now and show the rest of the world that love will always conquer hate."
As the  United 93 families arrived at The Bataclan, they witnessed an historic moment when Paris Mayor Anne Hidalgo accompanied United Nations Secretary-General Ban Ki-moon for the laying of flowers at the memorial.
"The Secretary-General offered a silent bow at the site and that to me was a  somber recognition of their loss of life," said Peterson.
The United 93 families will also visit the D-Day beaches in Normandy on the trip.
Casey Sherman is a freelance journalist and author of "The Finest Hours," the 2009 book about a daring Coast rescue amid a nor'easter that is the subject of an upcoming feature film.