Traditionally black colleges seeing rise in Hispanic and Asian applicants, report says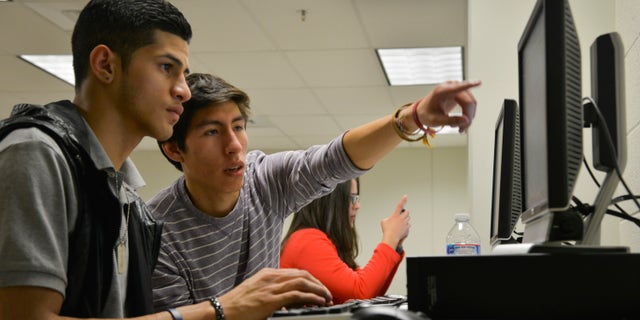 NEWYou can now listen to Fox News articles!
SHREVEPORT, La. (AP) – After years of declining enrollment, many of Louisiana's historically black colleges and universities are seeing a modest rise.
Tougher admission standards and stringent requirements for student loans caused the losses. Higher education experts tell The Times that there may be a couple of reasons for the increase. One is that more Hispanic and Asian students are entering the historically black schools. Another is that recent racial conflicts at predominantly white institutions may have minority students seeing the historically black schools as safer.
Last fall's enrollment at Grambling State University rose by 49 students, to 4,553. Officials there think enrollment this fall could hit 4,800. Southern University's Baton Rouge campus added 322 students in fall 2015, while the entire system increased by 628.
The number of non-traditional black students is growing at campuses because of lower tuition, higher academic programs and more students wanting to attend a safer college environment, said Marybeth Gasman, a higher education professor at the University of Pennsylvania and director of the Penn Center for Minority Serving Institutions.
"We're seeing an influx of Latino students and also Asian students at HBCUs, but that's happening at all kinds of institutions," Gasman said. "For a long time it wasn't happening at HBCUs, and just in the past five years, it's been happening a lot more. A lot of schools will see more white students if they have an MBA program, law school or programs that aren't at other institutions, but there's still some prejudice and racism that stops white students from going to HBCUs."
News about incidents at predominantly white institutions may also have contributed, she said.
"I think that all the national protests and shooting of black men and women has played a part," she said. "I have interviewed quite a few students who have told me that HBCUs are a safe place, a sanctuary."
Enrollment was down by 15 students each at two of Louisiana's HBCUs last fall: Dillard University and Southern University Law Center.
Dillard is expecting a 115-student increase this fall, to 1,300.
Dillard's president, Walter Kimbrough, said he expects racial problems at a number of shite schools to boost enrollment at all historically black colleges and universities.
He said minority students are asking, "Do I want to go to school at a place where I might be in a hostile environment?"