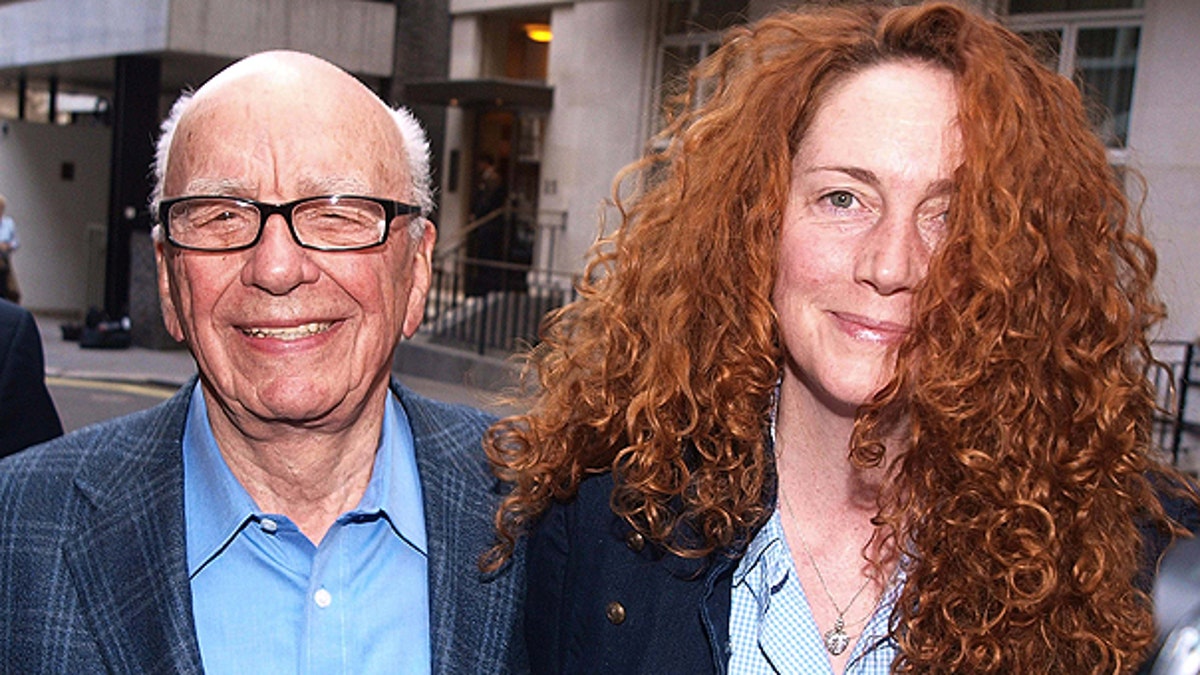 LONDON – Rupert Murdoch accepted the resignation of The Wall Street Journal's publisher and the chief of his British operations on Friday as the once-defiant media mogul struggled to control an escalating phone hacking scandal with a public statement of contrition and a personal apology to the family of a murdered schoolgirl.
The scandal has knocked billions off the value of Murdoch's News Corp., scuttled his ambitions to take control of lucrative British Sky Broadcasting, withered his political power in Britain -- and is threatening to destabilize his globe-spanning business.
The controversy claimed its first victim in the United States as Les Hinton, chief executive of the Murdoch-owned Dow Jones & co. and publisher of the Wall Street Journal, announced he was resigning with immediate effect.
Murdoch's British lieutenant, Rebekah Brooks, stepped down earlier Friday.
Hinton has worked for Murdoch's News Corp. for 52 years and is one of the media baron's staunchest allies. A member of the board of The Associated Press, Hinton became head of Dow Jones in December 2007.
He was chairman of Murdoch's British newspaper arm during some of the years the abuses took place, but testified to a parliamentary committee in 2009 that he had seen no evidence phone hacking had spread beyond a single jailed reporter Clive Goodman.
Hinton said that "the pain caused to innocent people (by hacking) is unimaginable."
"That I was ignorant of what apparently happened is irrelevant, and in the circumstances I feel it is proper for me to resign from News Corp. and apologize to those hurt by the actions of News of the World," he said.
Just a day after asserting that News Corp. had made only "minor mistakes," Murdoch issued an apology to run in Britain's national newspapers for "serious wrongdoing" by the News of the World, which he shut down last week amid allegations of large-scale illegal hacking by its staff.
"We are sorry for the serious wrongdoing that occurred. We are deeply sorry for the hurt suffered by the individuals affected. We regret not acting faster to sort things out," said the full-page ad, signed by Murdoch and due to run in Saturday's editions of Britain's main national newspapers.
Murdoch promised "further concrete steps to resolve these issues and make amends for the damage they have caused."
Murdoch also met the family of murdered schoolgirl Milly Dowler, whose phone was hacked by the News of the World in 2002. The revelation that journalists had accessed her phone in search of scoops inflamed the long-simmering scandal about illegal eavesdropping by the newspaper.
The 80-year-old mogul emerged from the meeting at a London hotel to catcalls of "shame on you!" from hecklers. He said that "as founder of the company I was appalled to find out what had happened and I apologized."
Dowler family lawyer Mark Lewis said Murdoch appeared humbled and had offered "a heartfelt and what seemed to be a very sincere apology."
"I don't think somebody could have held their head in their hands so many times and said that they were sorry," Lewis said.
Murdoch's tone was dramatically different from an interview published Thursday in the Wall Street Journal -- which is owned by News Corp., also the parent company of Fox News -- in which he said the company had handled the crisis "extremely well in every way possible" and complained he was "getting annoyed" at all the negative headlines.
The crisis claimed another senior scalp Friday as Brooks, chief executive of Murdoch's British newspaper division, resigned.
The media magnate had defended the 43-year-old Brooks in the face of demands she step down from British politicians -- including her friend and neighbor, Prime Minister David Cameron. After previously refusing to accept her resignation, he made an abrupt switch as News Corp. struggled but failed to contain the crisis.
Brooks said she was stepping aside because "my desire to remain on the bridge has made me a focal point of the debate."
"This is now detracting attention from all our honest endeavors to fix the problems of the past," she said in an email to staff.
Brooks said she would "concentrate on correcting the distortions and rebutting the allegations about my record as a journalist, an editor and executive."
A new chief executive untainted by the U.K. problems, Tom Mockridge, was installed to replace Brooks at News International, the British arm of Rupert Murdoch's global News Corp. Mockridge, a 55-year-old New Zealander, joined News Corp. in 1991 and has been in charge of Sky Italia since 2003.
The moves came after News Corp. brought in PR firm Edelman Communications to help with public relations and lobbying -- an admission, perhaps, that its attempts to manage the crisis have so far been a disaster.
News Corp.'s critics say the company has signally failed to appreciate the mood of public and political anger. Analyst Claire Enders said the company had appeared to cast itself as a victim -- "which is completely impossible for people here to respond to and is making things worse."
Brooks' departure marks a reversal of fortune for one of Britain's most powerful media executives, who rose from secretary to CEO during 22 years with News International.
Critics said she should have gone long ago. She was editor of the News of the World between 2000 and 2003, when the paper's employees allegedly hacked into 13-year-old Milly's phone as police searched for her, potentially interfering with the police investigation.
Brooks has always said she had no knowledge of phone hacking, though she did acknowledge in a 2003 appearance before lawmakers that her paper had paid police officers for information -- an illegal practice that, along with hacking, is now the center of a criminal investigation.
Brooks had been in charge of News International's four -- now three -- British newspapers since 2007, following a four-year stint as editor of the market-leading daily tabloid, The Sun. Just a week ago, she faced 200 angry employees at the News of the World who had lost their jobs as she kept hers when Murdoch shut down the paper.
When shareholders began to call for her to go, Brooks' position became untenable. Saudi Prince Al-Waleed bin Talal Alsaud, the second-largest News Corp. stockholder, told the BBC on Thursday that if Brooks were found to be implicated in wrongdoing by the newspapers "for sure she has to go."
Her resignation was greeted with relief by British politicians.
"It is right that Rebekah Brooks has finally taken responsibility for the terrible events that happened on her watch," said opposition Labour Party leader Ed Miliband. "No one in this country should exercise power without responsibility."
Cameron, who had called for Brooks to step down, said she made "the right decision," said the prime minister's spokesman, Steve Field.
Friday's events suggest Murdoch and his son James have realized their damage-limitation exercise has been a massive failure.
Allegations emerged last week that the News of the World hacked not only celebrities, politicians and athletes but a murdered schoolgirl as well as the victims of London's 2005 terrorist bombings and the families of dead British soldiers.
The company first shut down the News of the World and then abandoned a bid to take control of BSkyB in a bid to limit the damage to the greater News Corp. empire, which includes Fox News, the 20th Century Fox movie studio, the Wall Street Journal, the New York Post and the three remaining British newspapers -- The Sun, The Times and The Sunday Times.
The crisis is far from over.
This week Cameron appointed a judge to conduct a sweeping inquiry into criminal activity at the paper and in the British media.
British police have arrested seven people in their investigation of phone hacking, and two others in a parallel investigation of alleged bribery of police officers. Police say they have recovered a list of 3,700 names of potential victims but so far have been in touch with fewer than 200.
Lawyers for Jude Law said Friday the actor was suing The Sun for allegedly hacking into his voice mail. News International denied the claim, calling it "a deeply cynical and deliberately mischievous attempt" to drag The Sun into the hacking scandal.
Next week Brooks and the two Murdochs face questions from a British parliamentary committee. Rupert and James Murdoch initially resisted, but agreed to appear after the committee issued formal summonses to them.
Being hauled before a hostile group of legislators marks a rapid change of fortune for Murdoch, long accustomed to being courted by prime ministers and other politicians.
Most worrying for the Murdochs are signs the crisis could yet spread to the United States, where the FBI has opened an investigation into whether 9/11 victims or their families were targeted by News Corp. papers.
News Corp. shares, which have rallied in recent days after losses last week, were up just over 1 percent at $16.16 in early afternoon trading in New York.