Top Iraqi Shiite cleric urges end to crisis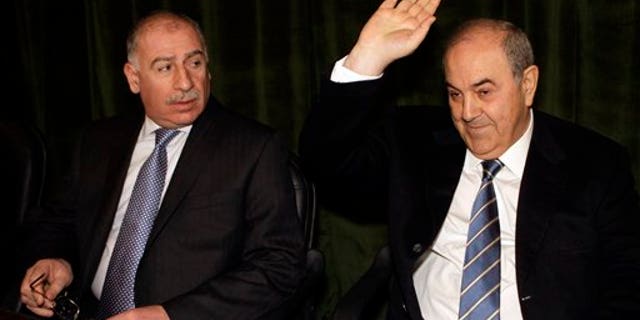 BAGHDAD – Iraqi authorities detained a senior Sunni official on terrorism charges Friday, even as an aide to the country's most prominent Shiite cleric urged politicians on both sides of the sectarian divide to end an escalating political crisis.
The political battle erupted last month after the Shiite-led government issued an arrest warrant against the Sunni vice president, Tareq al-Hashemi, on terrorism charges, sending him into virtual exile to the Kurdish autonomous region in northern Iraq. In protest, al-Hashemi's Sunni-backed Iraqiya bloc has been boycotting parliament and Cabinet sessions, bringing government work to a standstill.
On Friday, security forces took Ghdban al-Khazraji, the deputy governor of Diyala province, into custody, said Iraqiya lawmaker Hamid al-Mutlaq. A police official in the predominantly Sunni province north of Baghdad said al-Khazraji was detained on terrorism charges. The official spoke on condition of anonymity because he was not authorized to brief the media.
Al-Mutlaq said al-Khazraji's arrest is an escalation of what he said is a campaign by Prime Minister Nouri al-Maliki, a Shiite, against the Sunni minority and part of al-Maliki's efforts to cement his grip on power.
"It will add more complications to the political process," al-Mutlaq said.
Another Iraqiya lawmaker, Raad al-Dahlaki, told The Associated Press that security forces also raided the house of Diyala's second deputy governor, Talal al-Jubouri. He was not at home when Iraqi anti-terrorism troops stormed his house Friday, al-Dahlaki said.
The political troubles coincide with a wave of bombing attacks, most of them targeting Shiites, killing more than 160 people this year. The twin crises have raised fears of a reprise of a conflict five years ago, when heavily armed Shiite and Sunni militias battled each other and brought the nation to the brink of civil war.
The growing tensions prompted Grand Ayatollah Ali al-Sistani, who is revered by Iraqi's Shiite majority, to urge both sides to find a solution to the crisis.
Al-Sistani's aide, Ahmed al-Safi, said during a Friday sermon in the holy city of Karbala that after years of conflict, Iraq "cannot bear further tensions among politicians."
Al-Sistani normally exerts his influence through sermons and statements made by his aides.
On Wednesday, Iraqiya's leader Ayad Allawi accused al-Maliki of unfairly targeting Sunni officials and deliberately triggering a political crisis that is tearing Iraq apart. Allawi, who is a Shiite, said Iraq needs a new prime minister or new elections to the country from disintegrating along sectarian lines.