Tomic thanks absent father for Wimbledon run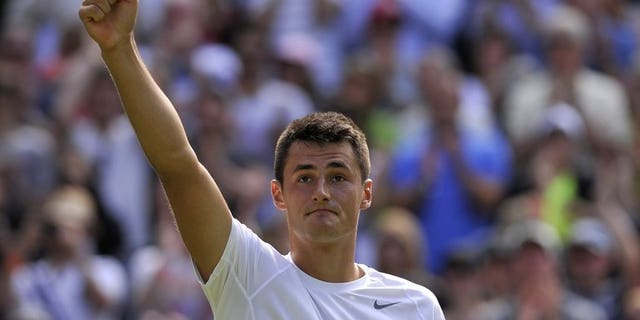 LONDON (AFP) – Bernard Tomic put his run to the Wimbledon last 16 down to behind-the-scenes coaching work with his father John, who remains banned from entering the grounds to see the Australian number one play.
Tomic is facing a fourth round clash with Czech seventh seed Tomas Berdych on Monday and thinks his dad's training can give the 2010 Wimbledon runner-up plenty to think about.
The world number 59 said if he reached the quarter-finals, he would consider going back to the All England Club and asking again if they could lift the ban, which applies to him entering the grounds as a coach and even as a spectator.
John Tomic faces a court date in Madrid later this year over an alleged attack on his son's former hitting partner Thomas Drouet.
He is staying in London with his 20-year-old son and their off-court chats seem to be paying dividends.
"I'm playing very well. I'm feeling very happy. Nothing's bothering me," Tomic said.
"When I leave the grounds and go somewhere different, you don't see what I'm doing with my dad. I could be practicing, I could be working on stuff. You see the results, but you don't know exactly what's happening.
"'Your father's not here, you're doing very well, do you need him, don't you need him.' That's not an appropriate question to ask because he's my dad. It's family.
"When I leave the site, I'm with my dad. He's helping me at this tournament. We're doing the right things.
"This is why the results are showing off now. I'm not doing it on my own. My dad is still involved. That's why I've got to where I am in this tournament and the results have shown."
Asked whether his father might have snuck in and beat the ban, he said: "You don't know with my dad. You just don't know."
Tomic said his training was geared to putting in his best performances at the Grand Slams, after reaching the fourth round of a major for the third time.
He beat French ninth seed Richard Gasquet 7-6 (9/7), 5-7, 7-5, 7-6 (7/5) in the third round on Saturday and reckons he can give his next opponent a dose of the same.
"Now I'm playing someone different, Tomas Berdych, who is a very, very good player. I'm going to have to study up on that, work with my team and my dad to give myself the best chance of winning."
He watched a bit of Berdych's third round match, where he beat South Africa's Kevin Anderson 3-6, 6-3, 6-4, 7-5.
"It's not easy because Tomas is very strong. He hits a big ball. You've got to be ready. I think I can use what I have and really give it to him because I think if I play my tennis, he's not going to like what I have to offer."
Berdych concurred with that assessment.
"He is a very tough and tricky opponent," the Czech said.
"He's one of the best results on grass. He can really, really be dangerous. His game is very different to the other guys. I think patience is definitely going to be the word to stick on."
Berdych has quickly built up a 20,000-strong Twitter following, with his wry observations.
"I see that so many people seem quite boring so you need to have some fun around," he said.