Toll of Filipino commandos killed in rebel clash rises to 43; terror suspect possibly killed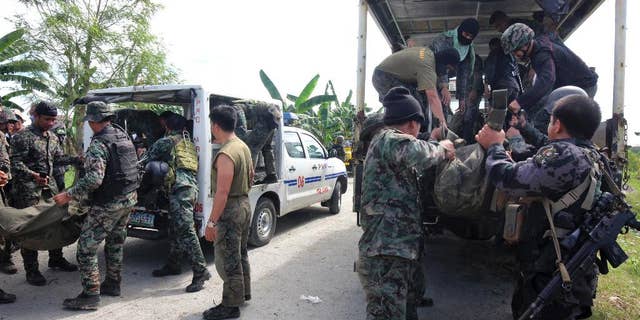 MANILA, Philippines – Philippine police say 43 of their commandos have been killed in a fierce battle in the country's south with Muslim guerrillas while hunting one of southeast Asia's most-wanted terror suspects.
National police Deputy Director General Leonardo Espina says one commando remains missing while 11 others were wounded in the daylong clashes Sunday in a far-flung village of Mamasapano town in Maguindanao province. It was the biggest single-day combat loss for the Philippine government in recent memory.
Interior Secretary Mar Roxas called the commandos "fallen heroes" who sacrificed their lives to try to capture Malaysian bombing suspect Zulkifli bin Hir, or Marwan, who may have been killed by the commandos.