Tibet exiles seek global support in China struggle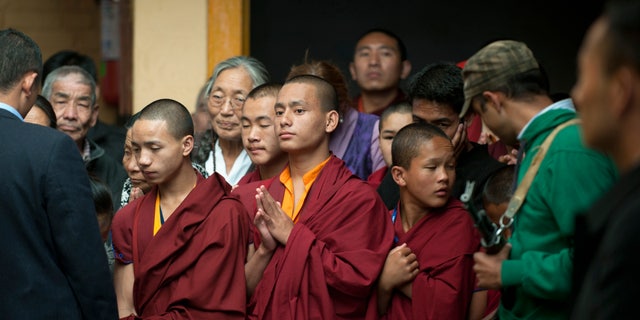 DHARMSALA, India – The political leader of Tibetan exiles on Friday asked for international support for his people's struggle against Chinese rule that has led to dozens of self-immolations in Tibetan areas since 2009.
Prime Minister Lobsang Sangay was speaking at a special meeting in Dharmsala of Tibet support groups from more than 40 countries. The north Indian hill town has been the headquarters of Tibet's spiritual leader, the Dalai Lama, since he fled from Tibet after a failed 1959 uprising against Chinese rule.
"Tibet is a litmus test for China and the world. By supporting Tibet, the international community will clearly show what they stand for," said Sangay.
About 200 delegates are participating in a three-day meeting of Tibetan support groups. The meeting, called by the self-declared government-in-exile, aims to explore ways to solicit international support to press China to change what Tibetan activists say are repressive policies in Tibet.
Beijing says it has boosted living standards in minority areas and treats minorities fairly.
Sangay said his people remain committed to a non-violent approach in resolving their 60-year long struggle. He said it was time for the international community to recognize this and focus on Tibet.
"By not supporting us in our non-violent struggle, the world will send a wrong message to all oppressed people of the world," Sangay said.
More than 70 Tibetans have immolated themselves protesting China's rule since 2009. Many had chanted for Tibetan freedom and the return of the Dalai Lama to Tibet before lighting themselves on fire.
The Dalai Lama says the self-immolations are a symptom of desperation and frustration felt by Tibetans living under the Chinese government's hardline policies in the region, including its tight restrictions on religious life.
Sangay said the meeting sends a message to Tibetans inside Tibet that their supporters will stand up for them to realize their aspirations for freedom and the Dalai Lama's return to Tibet.
Chinese authorities have accused supporters of the Dalai Lama of encouraging the spate of self-immolations.
The Dalai Lama says he opposes all violence and seeks real autonomy for Tibetans and not independence for the region.