Three Cuban stowaways found inside 'Fast and Furious 8' cargo ship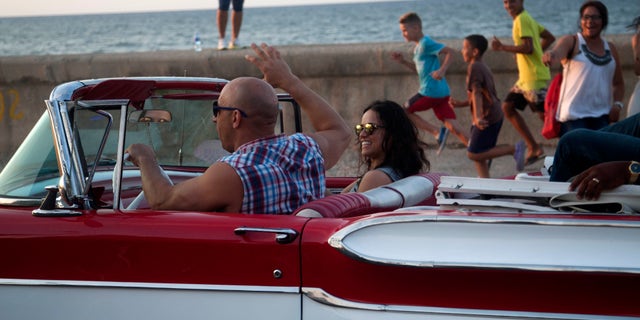 MIAMI – Three Cubans were found hiding on a cargo ship carrying film equipment used in the shoot for the eighth installment of the "Fast and Furious" franchise.
According to Port Everglades spokesperson Ellen Kennedy, the three people were found by U.S. Customs and Border Protection officials hiding in an auto carrier aboard a cargo ship on Friday. The ship was traveling from Cuba to Post Everglades.
Customs public information officer Migdalia Artega confirmed that three Cuban nationals were confirmed but did not identify them due to privacy laws.
The eighth installment of the "Fast and Furious" franchise stars Vin Diesel and Michelle Rodriguez. The two actors spent several weeks in the Caribbean island recently filming a portion of the blockbuster franchise.
Excited crowds were spotted around Havana while filming took place. Diesel's character in the franchise Dominic Toretto is said to have Cuban heritage, the Daily Mail UK reported.
"The warm and welcoming people of Cuba have been incredible to the cast and crew of #F8. #FastFridays" the film's official Instagram account posted on Saturday.
The Associated Press contributed to this report.