Thousands rally in Hong Kong for democracy amid Beijing's tightening grip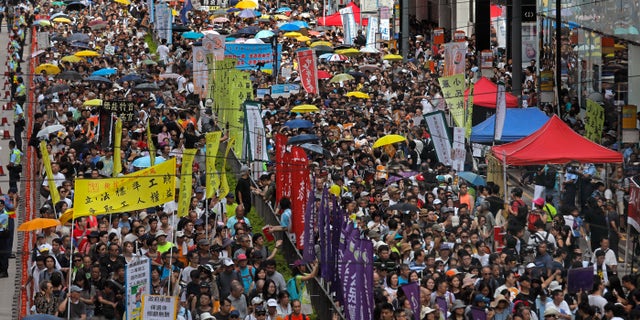 Thousands of Hong Kong residents marched in protest against China's growing grip over the properous city as the former British colony marked the 21st anniversary of returning to Beijing's rule.
The protesters, who numbered about 50,000, braved withering heat on Sunday and included people in wheelchairs, younger residents and families with children, reports Reuters.
Some protesters waved banners that said: "End one party rule. Against the fall of Hong Kong."
"Now the government is already siding with the Communist Party. Can Hong Kong see any universal suffrage in 20 or 30 year's time? I don't think so," 13-year-old Joanna Wen, who was accompanied by her father, told Reuters.
Hong Kong returned to China in 1997 under the "one country, two systems" formula, which was meant to guarantee its autonomy and held the promise of universal voting rights.
On Sunday, police were deployed as some demonstrators marched while carrying yellow umbrellas—a symbol of democratic activism in Hong Kong.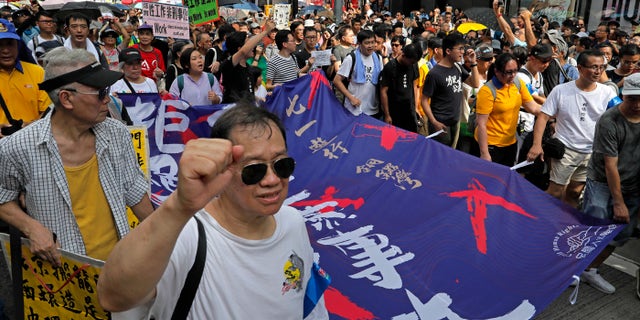 TERRIFYING FOOTAGE: SHARK DRAGS WOMAN INTO CROCODILE-INFESTED WATERS
During a ceremony to mark the handover, Chief Executive Carrie Lam said the "one country, two systems" framework remains intact.
"Without fear, we correctly deal with our relationship with the central government. And we promote a stronger understanding of the constitution, the Basic Law, and national security in all sectors," Lam said at a Sunday morning cocktail reception, reports Reuters.
Although Hong Kong activists want more democracy, many feel the city is being pulled closer to mainland China's authoritarian control.
Later this year, a bridge and high-speed rail line linking Hong Kong with China will open as part of a larger integration project called the Greater Bay Area that's being overseen by Beijing's communist leadership.
One pro-democracy advocate, Martin Lee, told Reuters the opening of the bridge and rail line will kick-start Hong Kong's absorption into the Greater Bay Area.
"That seems to be the plan of Beijing, to have Hong Kong absorbed into this bay area... Hong Kong will no longer be Hong Kong," Lee said.