Thousands of Romanians in fresh protest against mine project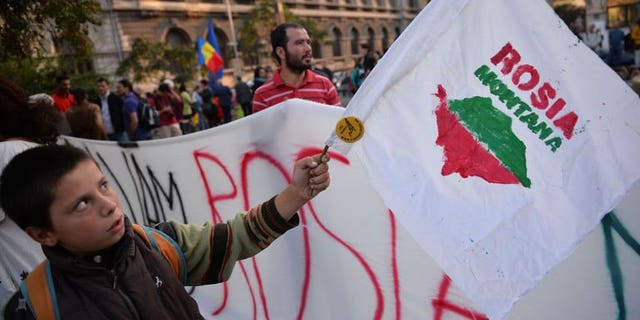 BUCHAREST (AFP) – Thousands of Romanians took to the streets on Sunday in a fourth week of protests against a Canadian company's plan to open Europe's largest gold mine in a picturesque Transylvanian village.
The demonstration came a day after thousands of protesters formed a human chain around the parliament building in Bucharest, in the biggest wave of demos in Romania since the 1990s.
Protesters in the capital chanted "United we can save Rosia Montana", the village where Gabriel Resources is hoping to extract 300 tonnes of gold and 1,600 tonnes of silver.
"What worries me is that they will destroy nature and our heritage, the Roman-era mining galleries. But we will continue to resist, three weeks have passed and we are still here," said student Nicoleta Bogza, one of an estimated 15,000 who turned out to protest.
Critics warn that hundreds of families would be forced to move if the plan were to go ahead, and that four mountain tops could be destroyed.
Some 12,000 tonnes of cyanide would be used annually for the project, 12 times more than the amount used in the mining industry in the entire European Union.
Prime Minister Victor Ponta's centre-right government last month submitted a bill to parliament that would clear the way for the open-cast mine, after previously promising to block the project.
The bill would make it easier for the company to expropriate property and obtain certain permits from local authorities.
The move sparked massive protests which have turned against government and the political class in general, who are accused of corruption and contempt for public interest.
Under pressure, the government early this week delayed a parliamentary vote on the bill until November after Ponta agreed to set up a committee to examine the project.
The Canadian company promises 900 jobs in the 16-year extraction phase and says the mine would "provide substantial economic, environmental, cultural and social benefits to the region and... the local community".