Thousands of Costa Ricans pour into streets of capital to celebrate victory at World Cup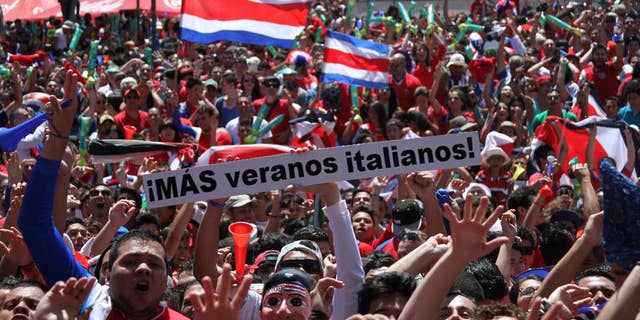 SAN JOSE, Costa Rica – Thousands of Costa Ricans waving the country's blue, white and red flag are pouring onto the streets of their capital to celebrate the national soccer team's historic 1-0 victory over Italy in the World Cup.
The country came to a standstill Friday as government employees were given the day off to watch the game and many schools shut down shortly after the victory to allow children to join in the celebration.
Jorge Loria says he watched Friday's game at a friend's house but then headed to La Plaza de la Hispanidad in San Jose to join fellow revelers.
He says the happiness from seeing his team defeat England and now Italy is so big he feels Costa Rica can win the tournament.
He says, "We will be world champions!"