Thousands of anti-Putin protesters march in Moscow, call for release of prisoners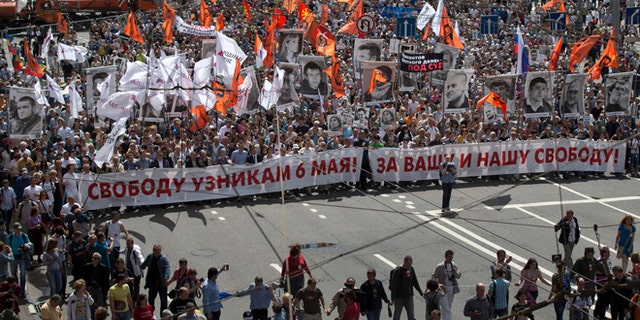 MOSCOW – Thousands of Russian opposition activists marched through Moscow on Wednesday, decrying President Vladimir Putin's authoritarian rule and calling for the release of people they consider political prisoners.
The march on Russia Day, a national holiday, was to show support for 27 people arrested after a protest turned violent on the eve of Putin's inauguration more than a year ago. Sixteen of the defendants have remained in jail pending trial on charges that could send them to prison for up to 10 years.
The arrests, especially those of ordinary Russians who had joined the anti-Putin rallies for the first time and who in some cases seemed to have been grabbed at random, appeared to have been part of Kremlin efforts to deter people from joining any future protests.
The estimated 10,000 to 15,000 protesters who turned out Wednesday were far fewer than the 100,000 or more who rallied against Putin before his election to a third term, reflecting a wariness that has taken the steam out of the protest movement. But the turnout was still higher than many had expected.
"You can't sit at home when the government begins repressions against ordinary, decent citizens of our country — people who don't want to live in this swamp, people who want to see their country thrive," civil activist Vitaly Zolomov said. "And I believe, and this is something I tell everyone, that it's criminal to stay on the sidelines in Russia when lawlessness has become the norm."
Opposition leader Alexei Navalny and his wife led the marchers behind a banner saying: "Freedom to the May 6 prisoners. For your freedom and ours."
Navalny, who first made his name as an anti-corruption campaigner, is on trial in a separate case in which he is accused of embezzlement while serving as an adviser to a provincial governor. He claims the charges are punishment for his exposure of high-level corruption and campaign against Putin and his party.
If found guilty, the inspirational protest leader could be sent to prison for up to 10 years.
Speaking at a Kremlin reception for Russia Day, Putin said the Russian people had gone through difficult years after the 1991 Soviet collapse, but had succeeded in putting the country "on a firm path of development that is inseparable from such understandings as democracy, respect for human rights and the rule of law," the state ITAR-Tass news agency reported.
Putin ended his speech with a toast "to a free and prosperous Russia."
Gay rights activists carrying rainbow flags were among the marchers Wednesday. Under a bill passed by the lower house of Russia's parliament Tuesday but not yet signed into law, it will be a crime in Russia to hold gay pride rallies or provide information on homosexuality to children. Russian and international rights activists condemned the bill as a violation of basic rights.
Shortly before the march began, police detained nine members of the Left Front, whose leader is under house arrest.