Thousands march through Paris in protest against French leader Hollande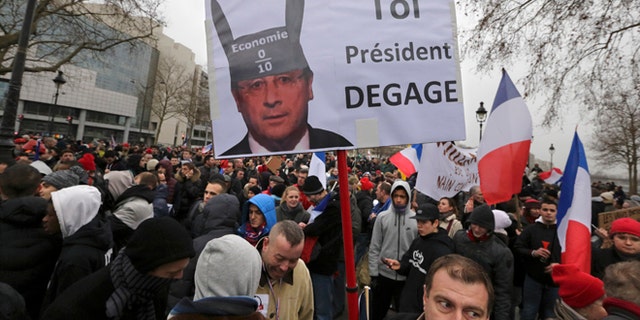 PARIS – About 17,000 people have marched through central Paris to criticize President Francois Hollande.
Carrying banners saying "The French are angry!" Sunday's demonstration by people from about 50 organizations cited France's struggling economy and high unemployment, its taxes, their housing needs and lack of personal freedoms.
Police, who provided the estimate of the size of the march, said it went from Place de la Bastille to Les Invalides.
The demonstrators didn't mention the biggest international news event surrounding Hollande, the secret affair that led him to announce on Saturday that he's ending his seven-year relationship with Valerie Trierweiler, France's first lady.
"Today they are taking our money from all sides. There are new taxes all the time. We have had enough!" said protester Johan Bonnain.
With Hollande's approval rating in France standing at about 30 percent, Trierweiler was traveling to India on Sunday on a long-scheduled humanitarian mission.