Thousands in Morocco Protest Proposed Constitution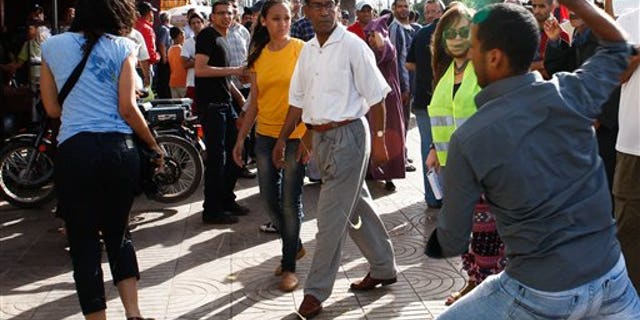 Thousands of people demonstrated around the country both for and against Morocco's proposed new constitution on Sunday, just a week before it is put to a referendum.
King Mohammed VI announced a new constitution June 17 following unprecedented nationwide protests for greater freedoms in the preceding months.
He said the new document would turn the country into a constitutional monarchy and widen the space for democracy.
The draft proposal gives the prime minister and the parliament greater powers, more independence to the judiciary and guarantees human rights, gender equality and an equal role to the Berber language.
Pro-reform activists, however, say that the draft, which was drawn up by a commission chosen by the king, leaves the monarch's absolute powers intact. Mohammed VI remains the head of the army and country's pre-eminent religious figure.
Backed by the official political parties, the government has launched an energetic media campaign in support of the new constitution ahead of the July 1 referendum.
Supporters of the government are now organizing demonstrations to rival those of the February 20 pro-democracy movement, often resulting in scuffles between the two sides.
In downtown Rabat, the capital, a march of at least 1,000 calling for the boycott of the referendum on Sunday was blocked by police as well as a few hundred government supporters.
The two groups, separated by riot police, chanted rival slogans. Activists reported brief scuffles and some injuries.
"We have decided since they won't let us march we will hold an open-ended sit in until they let us move," said Omar Radi, an activist with the February 20 movement.
In the North African kingdom's largest city Casablanca, government supporters also blocked a February 20 march of thousands in downtown.
Videos posted on the Feb. 20 website showed demonstrations in the cities of Tangiers, Marrakech and Tetouan.
The official news agency reported that demonstrations supporting the constitution had taken place everywhere around the country Sunday, involving hundreds of thousands of people.
Like other official media organs, the agency did not mention the demonstrations against the constitutional project.