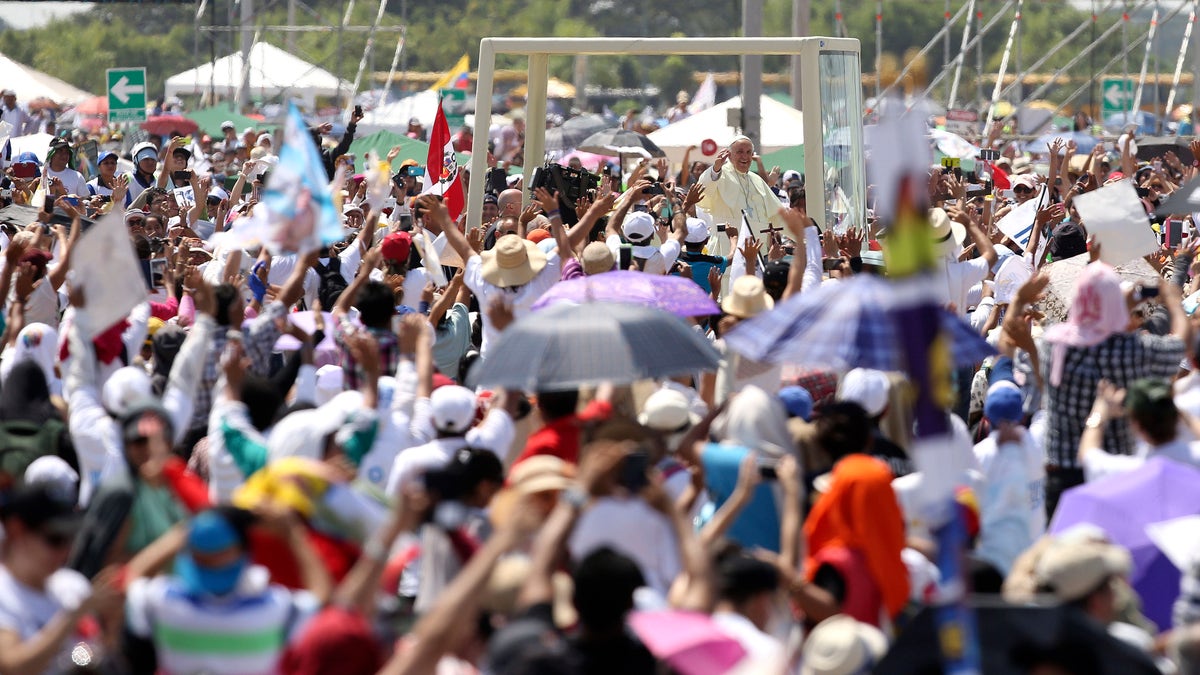 Hundreds of thousands gathered in the city of Guayaquil on Ecuador's coast Monday to cheer and wave to South America's first pontiff, Pope Francis, who celebrated Mass with a message of compassion for the weak and forgotten.
In his homily, Francis praised families as the bedrock of society -- "the nearest hospital, the first school for the young, the best home for the elderly" -- and said miracles are performed every day inside a family out of love. But he said sometimes the love and happiness runs out.
"How many women, sad and lonely, wonder when love left, when it slipped away from their lives?" he asked. "How many elderly people feel left out of family celebrations, cast aside and longing each day for a little love?"
Pope Francis started his day with a group of altar boys who took selfie photos with him after he landed Monday, and Mayor Jaime Nebot who gave him gold and silver keys to the port city. He smiled and waved as he traveled the streets in the Pope mobile.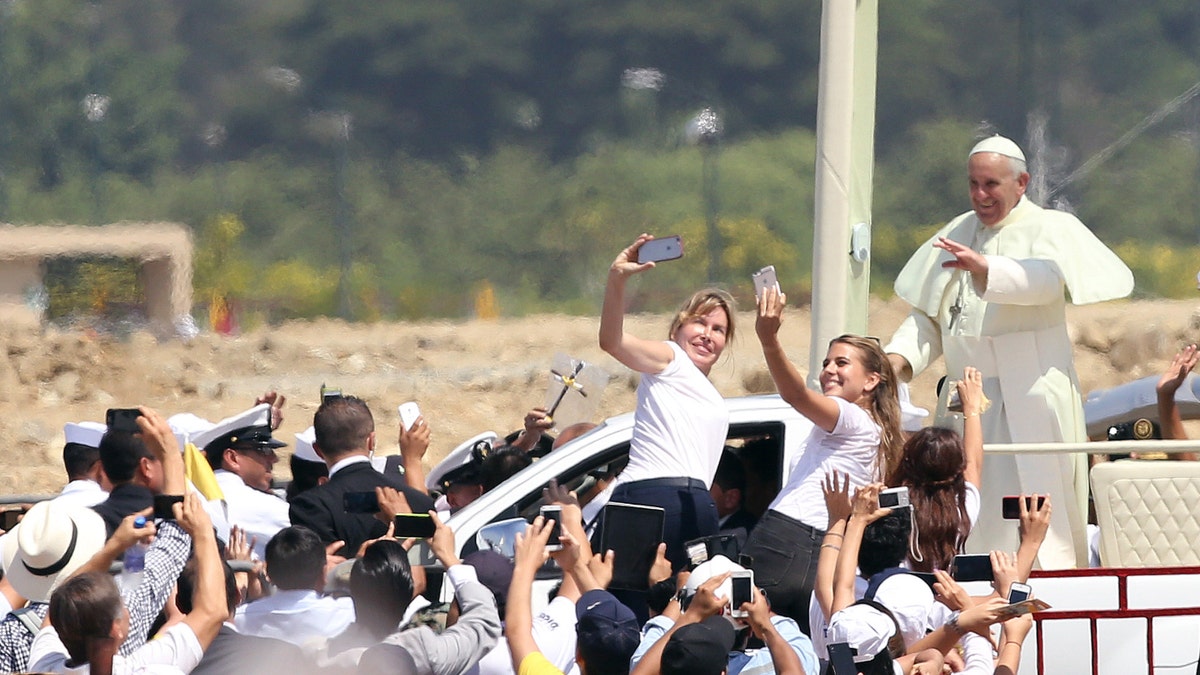 A huge crowd gathered in Samanes Park where nearly a million celebrated Mass with the pontiff, after he prayed in front of a picture of Jesus at the Shrine of the Divine Mercy.
Guillermina Aveiga Davila, a 90-year-old retired accountant, says she arrived in the middle of the night, traveling more than 100 miles from Chone, north of Guayaquil.
"This is the first time I'll be able to see a pope," said Davila, accompanied be five family members.
Vicente Huilcatoma Montes, 47, says he arrived Sunday evening to ensure a good spot close to the front. The bus driver says he walked 25 miles with a procession from the southern part of Guayaquil to the park.
"I'm tired, hungry and I haven't slept, but I feel such emotion and joy in my heart," Montes said.
After the Mass, Pope Francis will hold a lunch with a group of fellow Jesuits and plans to reunite with the Rev. Francisco Cortes, a Jesuit affectionately known as "Padre Paquito," to whom the Argentina-born pope-- then the Rev. Jorge Mario Bergoglio-- entrusted his seminarians on study trips to Ecuador years ago.
Cortes told the Associated Press recently he couldn't fathom that the pope remembered him, much less made a point of coming to have lunch.
"I don't know what to ask him," the soon-to-be 91-year-old Cortes said. "He said he wanted to see me and I'm amazed that he's coming. For the first time, I have known a pope."
Pope Francis returned to his native home of South America on Sunday to begin his eight-day tour that will take him to some of the continent's most impoverished countries.
In a speech in front of President Rafael Correa Sunday, the pope immediately signaled key themes: the need to care for society's most marginal, ensuring socially responsible economic development and, turning to Ecuador specifically, defending "the singular beauty of your country."
"From the peak of Chimborazo to the Pacific coast, from the Amazon rainforest to the Galapagos Islands, may you never lose the ability to thank God for what he has done and is doing for you," he said.
He added that "special attention must be paid to our most fragile brothers and the most vulnerable minorities."
The Pacific nation of 15 million is home to more than 20,000 plant species as well as the Galapagos Islands, which inspired Charles Darwin's theory of evolution in 1535.
Correa called the pope's visit "an honor," BBC News reported.
Thousands lined the motorcade route that took Francis to the Vatican ambassador's residence Sunday, many hopeful the pope will have a calming effect on a country that has seen recent street protests.
Some people shouted "Out! Out! Out!" at Correa as the papal motorcade traveled from the airport to the capital. Correa has been buffeted for nearly a month by the most serious protests against his left-leaning government of his more than eight years in power.
Travel agency worker Veronica Valdeon called the Argentine pontiff "a light in the darkness."
"We are living difficult moments in our country," she said, "and Francis brings a bit of joy."
Francis is to preside over another open-air Mass in his three days in Ecuador, in the capital on the site of the city's former airport Tuesday. Francis' stops later include a violent Bolivian prison, a flood-prone Paraguayan shantytown and a meeting with grass-roots groups in Bolivia, the sort of people he ministered to in the slums of Buenos Aires as archbishop.
While the countries themselves are small, they are fervently Catholic: 79 percent of the population is Catholic in Ecuador, 77 percent in Bolivia and 89 percent in Paraguay, according to the Pew Research Center.
Francis has dedicated the first two years of his pontificate to family issues, giving weekly catechism lessons on different aspects of family life and inviting the entire church to study ways to provide better pastoral care for Catholic families, people who are divorced, gays and families in "nontraditional" situations
Beyond the major public Masses in each country, Vatican organizers have scheduled plenty of time for the pope to meander through the throngs expected to line his motorcade route.
In September, Pope Francis is visiting Cuba as well as multiple cities in the United States.
The Associated Press contributed to this report