Third Day of Protests After Anaheim Police Shooting of Unarmed Latino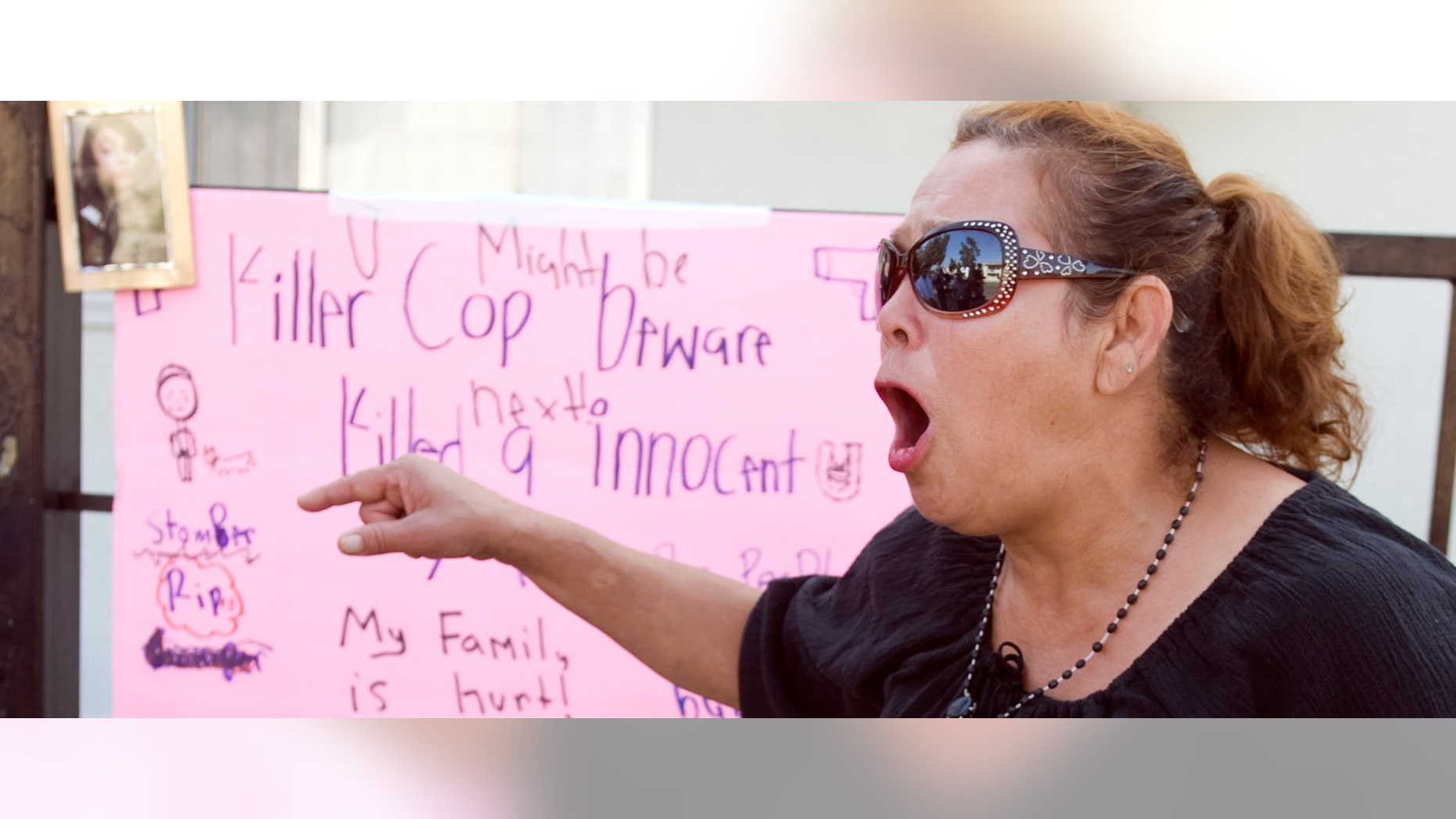 Anaheim, Cailf. – Protests continued in Anaheim three days after an unarmed Latino man was shot by police, the latest in a string of officer-involved shootings this year.
Another protest was planned Tuesday in front of City Hall following the death of 25-year-old Manuel Diaz, who was killed Saturday afternoon. Police say he was a known gang member.
The community has expressed outrage in the shooting, claiming overzealous police officers are going too far in their attempt to cut down on crime. They say instead of fighting back with non-lethal weapons like bean bags or pepper spray, officers are ruthlessly gunning down sometimes innocent victims in this predominantly Latino city.
The killings take the tally of officer-involved shootings to six so far this year, up from four a year before, said police Sgt. Bob Dunn. Five of those were fatal.
"It concerns me when we have any officer-involved shooting," said Police Chief John Welter, adding that he believes an uptick in gang-related crime in the last eight to 10 months is driving the increase.
"There just seems to be a lot more violence between the gangs. As a result, we've increased our gang unit, which has increased our contact with gang members," he said.
Anaheim is a city of contrasts that ranges from upscale hilltop homes to packed, gritty apartment complexes. The city 25 miles southeast of Los Angeles is known as home to the Angels baseball team, and above all, to world-famous Disneyland.
Mayor Tom Tait issued a statement Monday calling on the state attorney general's office and the U.S. attorney's office to aid an independent investigation.
In memory of Diaz, residents left candles, flowers and posters blasting police. They questioned why officers would shoot a man they said was a gang member but didn't have a gun or appear to be committing a crime.
Jose Gallardo, 30, said he was chatting with Manuel Diaz in an alley behind the complex just a few minutes before he saw an unmarked police car pull up with two officers. Gallardo said he stayed away to avoid drawing police attention until he heard two shots and went running.
"He was laying there, dead," Gallardo said, adding that he saw bullet marks in his friend's lower back and neck. "They were searching him — I was like, why are you searching him? He's dead right there."
The death sparked three nights of protests. On Saturday, demonstrators hurled rocks and bottles at officers who were securing the scene for investigators, and police responded by firing bean bags and pepper balls at the crowd.
The next morning, protesters swarmed police headquarters where the Welter held a news conference. Later that night, demonstrators set fire to a trash bin and pushed it into the street outside the apartment complex, which was still strewn with litter from the unrest.
On Monday night, Diaz's mother marched with the relatives of others killed in police shootings. Police also said trash bins were set on fire near the area where Sunday's officer-involved killing took place.
Welter said the shooting occurred after two officers approached three men who were acting suspiciously in an alleyway before running away. One of the officers chased Diaz to the front of the apartment complex.
The chief would not say what exactly led the officer to shoot Diaz, who authorities say was a known gang member. But Diaz wasn't just hanging out in the alley. He failed to heed police orders to stop and threw something on the roof of the complex that contained what officers believe to be heroin, Welter said.
"He certainly was running from police and not stopping," Welter said. "That's no justification for shooting him, so I will be interested in what the district attorney finds out."
Both officers were placed on paid leave pending an investigation.
The second officer-involved shooting occurred Sunday when anti-gang officers spotted a suspected gang member in a stolen sport utility vehicle. A brief pursuit ended when three people jumped from the SUV and ran, authorities said.
During the chase, a suspect fired one or two rounds at an officer. police said. The officer returned fire, killing the gunman, 21-year-old Joel Mathew Acevedo, Dunn said.
Both incidents were under investigation by the county's district attorney office, which asked witnesses to come forward with information or video footage of Saturday's shooting.
Online court records show Diaz was convicted last year of drug possession, and three years earlier of possessing a firearm on school grounds and being a member of a criminal street gang.
Residents remembered him as a man who was friendly to people in the neighborhood, where posters were affixed to a fence near the spot where Diaz was shot. They read: "Another person dead" and "Stop killing, start protecting."
Junior Lagunas, 19, had his forearm wrapped in white bandages and a hospital identification bracelet around his wrist as he recovered from being bitten by a police dog during the Saturday night melee.
Lagunas said he went outside with his girlfriend and 1-year-old son to observe the commotion when police began firing something, possibly bean bags, at the crowd.
He said he ducked and pushed the child, still in his stroller, to the ground, then turned around and saw a dog gnaw on his arm, leaving teeth marks and drawing blood.
"It's just crazy, the cops are going crazy on us," said Lagunas, who was friendly with Diaz.
Video captured by a KCAL-TV crew showed a chaotic scene as some people ducked to the ground and others scattered screaming. A man is seen yelling at an officer even as a weapon is pointed at him. Two adults huddled to shield a boy and girl.
Police said five people, two of them juveniles, were arrested that night. Authorities said the dog accidentally escaped from a patrol car, and the incident is being investigated.
Police also are reviewing the use of bean bags and pepper spray during the protests, which grew raucous when officers moved to arrest someone in the crowd suspected of committing a minor crime, Welter said. The man was later found to be wanted in a murder case.
Carroll Seron, a professor of criminology at University of California, Irvine, said relations between police and minority communities are often tense and an incident such as a shooting can trigger a loud reaction.
"In lots of instances, people kind of reach a threshold where they feel their communities are a little bit under siege," she said.
The shootings in Anaheim came a year after an unarmed, mentally ill homeless man died after a violent confrontation with police in nearby Fullerton. The death of Kelly Thomas sparked protests, criminal charges against two officers, an FBI investigation and the recall of three elected councilmembers.
Outside the Anaheim apartment complex, Caleb Fuentes, 23, left flowers for Diaz, a man he said was like a big brother when the two played junior varsity basketball at Anaheim High School.
Fuentes said he hadn't seen Diaz since those days but wondered if he, too, could end up like his friend.
"If I wore baggy clothes and had a shaved head, would they shoot me, too?" he said.
Based on reporting by the Associated Press.
Follow us on twitter.com/foxnewslatino
Like us at facebook.com/foxnewslatino