Theresa May visits Saudi Arabia without headscarf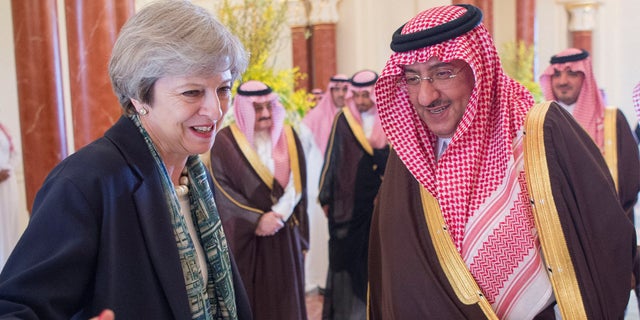 British Prime Minister Theresa May, turned heads on Tuesday when she arrived in Saudi Arabia without wearing a headscarf – reportedly bucking the advice of her own government.
THERESA MAY OFFICIALLY TRIGGERS BREXIT PROCESS
The photos showed May's ankles and wrists were covered. However, The Telegraph noted her outfit did not completely comply with Foreign Office guidelines: "Women should wear conservative, loose-fitting clothes as well as a full length cloak (abaya) and a headscarf."
There is no law in Saudi Arabia forcing foreign visitors to wear a headscarf, the newspaper reported.
The Prime Minister was not the first woman leader to visit this country without a headscarf. Former First Lady Michelle Obama and former Secretary of State Condoleezza Rice both left their heads uncovered.
BREXIT: UK PM THERESA MAY SIGNS ARTICLE 50 LETTER WITH CALL TO 'COME TOGETHER'
May received plenty of attention on Twitter, with several people praising her for her wardrobe choice and some deeming it disrespectful.
Before she arrived in Saudi Arabia, May said she hoped to serve as a role model for oppressed women there, The Sun reported. "I hope people see me as a woman leader and will see what women can achieve," May said.