The Latest: WNBA players were next door to Istanbul club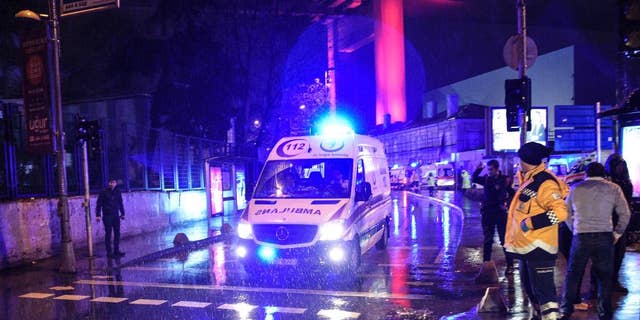 NEWYou can now listen to Fox News articles!
ISTANBUL – The Latest on a deadly attack on an Istanbul nightclub. (all times local):
7:20 a.m.
A handful of WNBA players, including Essence Carson, Chelsea Gray and Jantel Lavender of the Los Angeles Sparks, were next door to the deadly shooting at a nightclub in Istanbul.
Sparks coach Brian Agler confirmed to The Associated Press that Carson had texted him that the three players were OK.
An assailant believed to have been dressed in a Santa Claus costume opened fire at a nightclub during New Year's celebrations, killing at least 35 people and wounding 40 others in what the province's governor described as a terror attack.
Carson had tweeted earlier in the evening that she was "stuck inside of the club because of 'terror' shooting in Istanbul. Praises to the most high."
About two dozen WNBA players are in Turkey during their offseason playing in a league there.
___
4:50 a.m.
The White House is condemning what it calls a "horrific terrorist attack" in Istanbul and offering U.S. help to Turkey.
White House spokesman Eric Schultz says Obama was briefed on the attack by his national security team and asked to be updated as the situation develops. Obama is vacationing in Hawaii this week with his family.
White House National Security Council spokesman Ned Price says the attack on "innocent revelers" celebrating New Year's shows the attackers' savagery. He says the U.S. sends thoughts and prayers to the relatives of those killed.
Price says the U.S. supports its NATO ally Turkey as both countries fight terrorism.
The assailant is believed to have been dressed as Santa Claus when he killed 35 people and wounded 40 more at an Istanbul nightclub.
___
4:30 a.m.
Eyewitness Sinem Uyanik told the Associated Press she saw several bodies inside the Istanbul nightclub that was attacked during New Year's celebrations.
Her husband Lutfu Uyanik was wounded in the attack. "Before I could understand what was happening, my husband fell on top me," she said outside Istanbul's Sisli Hospital. "I had to lift several bodies from on top of me before I could get out."
Her husband was not in serious condition despite his wounds.
Istanbul Gov. Vasip Sahin said the attack left at least 35 people dead and 40 wounded.