The Latest: UN chief urges Myanmar to halt military ops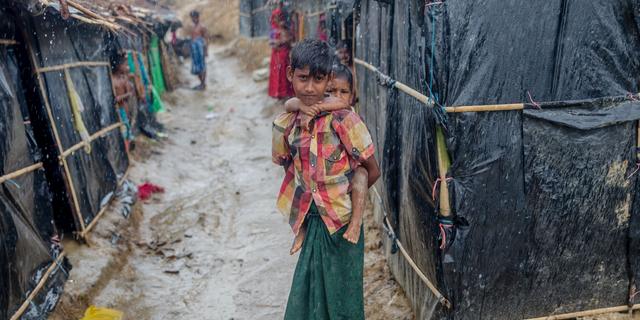 UNITED NATIONS – The latest on a U.N. Security Council meeting on Rohingya Muslim refugees fleeing Myanmar (all times local):
3:25 p.m.
The U.N. secretary-general is urging Myanmar's authorities to immediately end military operations that have sent over 500,000 Rohingya Muslims fleeing to Bangladesh.
Antonio Guterres warns that the humanitarian crisis is a breeding ground for radicalization, criminals and traffickers.
He tells the Security Council that Myanmar must also allow "unfettered access" for humanitarian aid and ensure the return of all those who sought refuge in Bangladesh.
The U.N. chief previously called the Rohingya crisis ethnic cleansing. He didn't repeat those words Thursday but referred to "a deeply disturbing pattern" of violence leading to "large movements of an ethnic group."
Guterres said Myanmar authorities claimed that security operations ended Sept. 5th, but he cited "reports of the burning of Muslim villages, as well as looting and acts of intimidation."
___
12:44 p.m.
The United Nations says the number of Rohingya Muslims that have fled from Myanmar to Bangladesh since August has now topped 500,000.
U.N. deputy spokesman Farhan Haq tells reporters "it is the largest mass refugee movement in the region in decades."
Haq says with the latest figure from the U.N. humanitarian office, "the total number of Rohingya refugees in Bangladesh is believed to be well over 700,000 people."
Haq adds that aid agencies are working with the government to improve road access to refugee camps and to facilitate humanitarian aid deliveries.
He says that as of Thursday, humanitarian partners have received just $36.4 million of the $77 million the U.N. called for in early September. Haq says the scale of the emergency has soared and the appeal will be increased.