The Latest: Turkish forces clear village in Syria's Afrin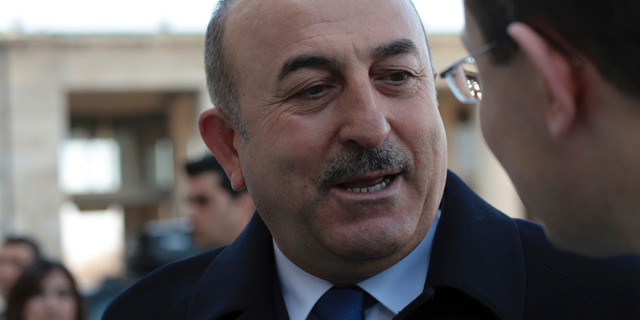 ANKARA, Turkey – The Latest on the Syria conflict (all times local):
1 p.m.
Turkey's state-run news agency says Turkish troops and allied Syrian forces have cleared Syrian Kurdish fighters out of another village in the Afrin enclave in northern Syria.
Anadolu Agency said the forces took control of the village Ali Kar, in the northern tip of the enclave, on Thursday, without providing details on the battle.
The agency said a total of 27 "locations" in Afrin — 20 villages and seven mountains or hills — have been brought under Turkish control since Jan. 20, when Turkey launched an operation against the Syrian Kurdish People's Defense Units, or YPG.
Turkey considers the YPG an extension of outlawed Kurdish rebels fighting inside Turkey and a threat to its security.
___
11:45 a.m.
Turkey has fired back after France's president warned it against invading a Kurdish enclave in Syria, calling his remarks an "insult."
Turkish Foreign Minister Mevlut Cavusoglu said Thursday that France was in no position to "teach a lesson" to Turkey over its cross-border offensive, referring to past French military interventions in Algeria and other parts of Africa.
His comments were in response to remarks by French President Emmanuel Macron, who warned Turkey against an "invasion operation."
Turkey launched the offensive against the Afrin enclave on Jan. 20 to drive out the Syrian Kurdish People's Defense Units, or YPG, a militia it says is an extension of the outlawed Kurdish rebels fighting inside Turkey.
Cavusoglu said France understood that Turkey was fighting "terrorists" and did not aim to invade Afrin.