The Latest: Tanker crew land in Dubai after 2 days in Iran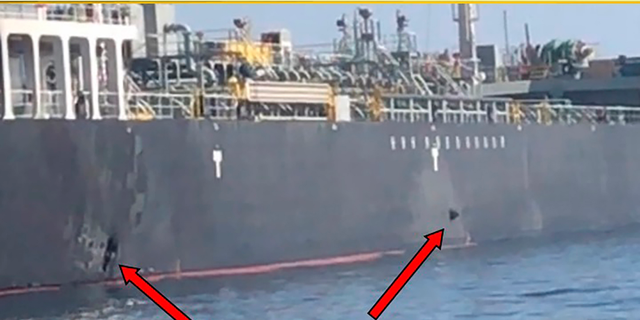 DUBAI, United Arab Emirates – The Latest on developments in the Persian Gulf (all times local):
9:20 p.m.
Crew members of the Norwegian-owned oil tanker that was attacked in the Gulf of Oman have landed in Dubai after two days in Iran.
Associated Press journalists saw the crew members of the MT Front Altair on Saturday night after their Iran Air flight from Bandar Abbas, Iran, landed in Dubai in the United Arab Emirates.
The Front Altair caught fire after the attack Thursday, sending a thick cloud of black smoke visible even by satellite from space.
The U.S. has blamed Iran for the attack, saying they suspect another limpet mine attack on oil tankers by Iran. Tehran has denied being involved and accused America of promoting an "Iranophobic" campaign against it.
___
6:20 p.m.
The United Arab Emirates' top diplomat says evidence his country possesses indicates that recent attacks against oil tankers inside UAE waters were "state-sponsored."
Foreign Minister Sheikh Abdullah bin Zayed Al Nahyan, in Cyprus on Saturday, didn't name the state, but said his country wants to work with other nations to prevent a further escalation of tensions in the region.
On Friday, the U.S. military released video footage it said suggested that Iran wanted to hide evidence that it was behind the attacks. Iran has denied involvement.
Al Nahyan said after talks with Cypriot counterpart Nikos Christodoulides on Saturday that the U.A.E. presented this evidence to the U.N. Security Council in a "very technical, open and transparent" manner.
He said the UAE's conclusion is that these were "state-sponsored attacks."