The Latest: Observers say at least 4 killed in Syria's Idlib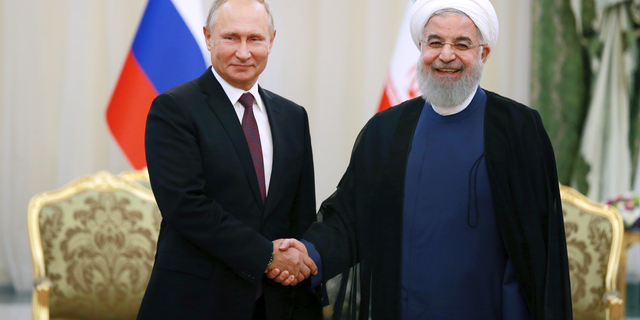 BEIRUT – The Latest on developments in Syria (all times local):
5:20 p.m.
The spokesman for the Turkish president has criticized world players for their lack of action to stop a looming offensive against the last remaining rebel stronghold in northwestern Syria.
In a column for Turkish newspaper Daily Sabah Saturday, Ibrahim Kalin called Idlib province a "ticking bomb" in a "global proxy war." He urged western powers to go beyond statements of concern and move toward "concrete action" for a political solution and a plan for refugees.
Idlib is home to some 3 million people and a regime offensive may trigger a new wave of displacement, driving refugees to Turkey which is already hosting more than 3.5 million Syrians. Kalin said an attack there to "eliminate terrorist groups" would undermine the ongoing Astana process with Russia and Iran to reach a political solution.
Kalin's comments come after Friday's Tehran summit with the Syrian government's backers Russia and Iran, where Turkey called for a cease-fire.
___
2:50 p.m.
A war monitoring group and rescue workers say at least four people have been killed in an intensifying government and Russian air campaign against the last rebel bastion in Syria.
The Britain-based Syrian Observatory for Human Rights describes the airstrikes as the "most intense" since August when government forces began targeting the southern edge of Idlib province, the rebel's last stronghold in Syria.
The Observatory recorded 68 air raids in the southwestern Idlib town of Khan Sheikhoun, and other villages and towns in the province and in northern Hama.
It said at least four civilians were killed, including two children and a woman, most of them in Abdeen, a village west Khan of Sheikhoun.
The White Helmets, a team of first responders, said it also recorded the four killed in Abdeen. The rescuers said another was killed in Halba, a village further north. The group said one of its already damaged centers has been hit in the wave of airstrikes.
___
12:45 p.m.
Activists and a war monitoring group say Syrian government and Russian warplanes have targeted the southern edge of Idlib province with a series of airstrikes, ratcheting up the military pressure on the densely populated rebel-held bastion.
The intense air raids come a day after Iran and Russia backed a military campaign in the rebel-held area despite Turkey's pleas for a cease-fire. Turkey has troops and observations points that ring Idlib.
The Britain-based Syrian Observatory for Human Rights reported more than 30 air raids Saturday on a number of towns and villages in southwestern Idlib and adjacent northern Hama province, an area targeted over the last few days and that overlooks government-controlled areas.
Schools were shut in Khan Sheikhoun, an area under attack, because of the raids, the Observatory reported.