The Latest: Israel closes doors on trial of Palestinian teen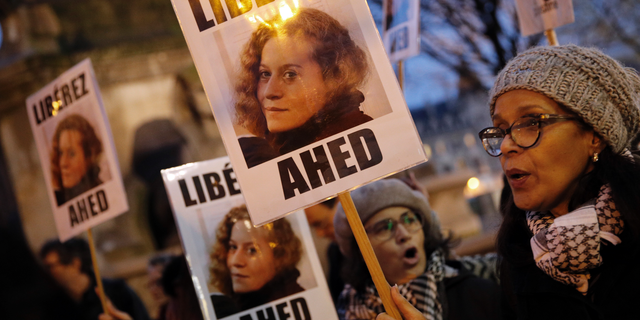 JERUSALEM – The Latest on the trial of Palestinian teenager who slapped, punched two Israeli soldiers in December (all times local):
11 a.m.
The Israeli military judge overseeing the trial of Palestinian teenager Ahed Tamimi has ordered all proceedings to take place behind closed doors.
The 17-year-old girl, on trial for slapping a pair of Israeli soldiers outside her West Bank home, walked into the packed courtroom on Tuesday as her trial began.
The judge quickly ushered out reporters, saying the trial would be closed "for the protection of the minor." Her lawyer, Gaby Lasky, objected.
Tamimi, who has been incarcerated for nearly two months, appeared to be in good spirits as she entered and whispered across the courtroom to her family.
Her father, Bassem Tamimi, shouted: "Stay strong!"
___
9:35 a.m.
Palestinian protest icon Ahed Tamimi is to go on trial before an Israeli military court for slapping and punching two Israeli soldiers in December in a case that has drawn wide criticism of Israel for prosecuting the teenager.
It has also underscored what Palestinians say constitutes legitimate resistance to Israel's rule, now in its 51st year after Israel captured the West Bank, Gaza Strip and east Jerusalem in 1967.
Israel has treated Tamimi's actions as a criminal offense, indicting her on charges of assault and incitement that could potentially lead to years in prison.
Tamimi's father, Bassem, told The Associated Press as he headed into the court on Tuesday that he comes "with no good expectations, because this a military court, and it's part of the Israeli military occupation."