The Latest: Iraqi PM urges Kurds to keep up fight against IS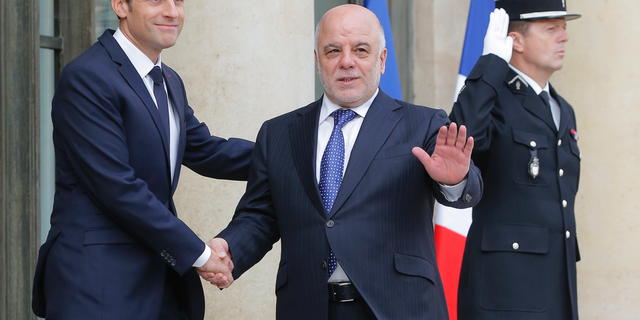 BAGHDAD – The Latest on developments regarding Iraq(all times local):
12:15 a.m.
Iraqi Prime Minister Haider al-Abadi is urging Kurdish peshmerga forces to keep working with Iraqi forces in the fight against Islamic State extremists despite tensions over the Kurds' independence referendum.
Al-Abadi, speaking in Paris on Thursday, made an appeal to his compatriots saying "we don't want armed confrontation" among Iraqi forces at a time when the government is ousting IS from its last strongholds.
Al-Abadi met Thursday with French President Emmanuel Macron, who offered mediation in the Kurdish tensions.
Iraq and its neighbors have rejected the Kurdish region's independence referendum last month, and Baghdad has banned international flights and threatened to take control of the autonomous Kurdish region's borders.
___
11:50 a.m.
French President Emmanuel Macron is offering for France to mediate between the Iraqi government and Kurds seeking independence after a controversial referendum.
Macron made the offer after meeting Iraqi Prime Minister Haider al-Abadi in Paris on Thursday in wide-ranging talks about French support for the fight against the Islamic State group and rebuilding Iraqi's economy.
Macron said France and others are worried about the situation of the Kurds after last month's referendum, and said France supports the stability and territorial integrity of Iraq. He insisted on the importance of "national reconciliation and inclusive governance" that includes Kurds, "with whom France maintains close ties."
Macron said dialogue "is the only path" and "France is ready . to contribute actively to mediation."