The Latest: Iran reaffirms support for Syria's Assad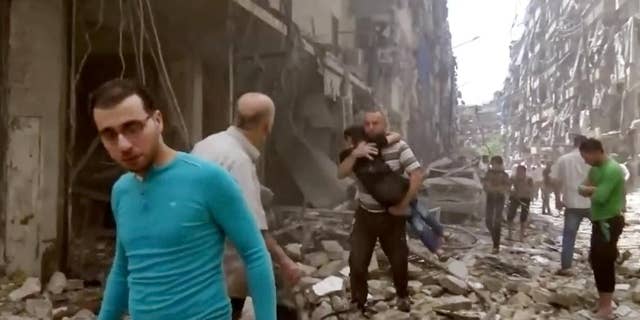 NEWYou can now listen to Fox News articles!
DAMASCUS, Syria – The Latest on Syria's civil war (all times local):
1:45 p.m.
A senior Iranian official has met with Syria's President Bashar Assad and vowed continued support for his government in the country's five-year-old civil war.
Ali Akbar Velayati, an adviser to Iran's Supreme Leader Ayatollah Ali Khamenei, met with Assad in Damascus on Saturday.
Syria's state news agency SANA quoted Velayati as saying that Tehran will always stand by Syria because it "knows that terrorism does not target Syria but the whole people of the region."
Velayati's comments came as Russia's Defense Ministry announced that a cease-fire in the northern Syrian city of Aleppo has been extended by three days starting Saturday.
___
1:40 p.m.
Russia's military says a fragile cease-fire in the northern Syrian city of Aleppo has been extended for 72 hours and is now in effect until 12:01 a.m. on Tuesday (2101GMT Monday).
The Russian Defense Ministry statement early Saturday says the extension was made at Moscow's initiative and would also apply to the Latakia region.
Russia and the U.S. last week reached an agreement to extend Syria's cease-fire to Aleppo. The Syrian military said it would last only 48 hours.
The Russian military accused the Syrian al-Qaida affiliate, known as the Nusra Front, of attempting to destroy the cease-fire by carrying out attacks on Aleppo and trying to impose a blockade on the city from the south.
The Nusra Front and the Islamic State group are not included in the cease-fire.