The Latest: Group asks Israeli soldiers to refuse to shoot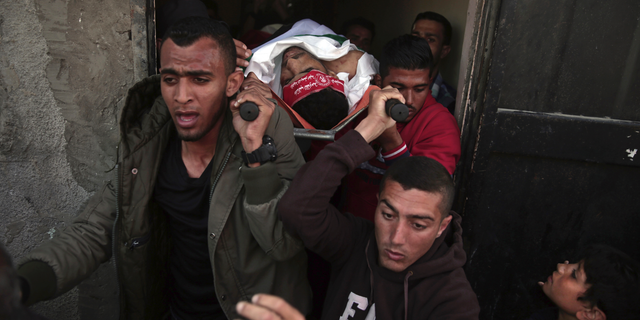 JERUSALEM – The Latest on developments related to protests at the Gaza border (all times local):
4:25 p.m.
An Israeli human rights group is calling on Israeli soldiers to refuse orders to open fire on Palestinian protesters in the Gaza Strip.
B'tselem spokesman Amit Gilutz says the group has never before taken such a step, but believes that Israeli tactics in last week's border confrontations were "manifestly illegal." Eighteen Palestinians were killed last Friday, including 13 in border protests.
The Israeli military says the tough response was justified because the protests were organized by the anti-Israel Hamas militant group. It also says the protesters were violent, throwing burning tires, firebombs and in several cases planting explosives along the border fence.
B'tselem says Israel has a right to defend its border, but live fire is justified only if there is "tangible and immediate mortal danger" to troops.
___
10:40 a.m.
Israel's Shin Bet security service says it has arrested 10 Palestinians suspected of planning an attack against a navy ship off the Gaza coast.
The cell's alleged leader was being indicted Wednesday. The Shin Bet says Amin Jamaa's interrogation revealed a plan to send a decoy boat that would distract the navy ship, after which a rocket would be fired at it and militants would then try to abduct wounded soldiers on board as bargaining chips for future prisoner swaps.
The Shin Bet identified the men as members of the Islamic Jihad militant group.
The disclosure follows mass protests along the Israel-Gaza border last Friday in which 18 Palestinians were killed.