The Latest: German policitician won't give up demand for cap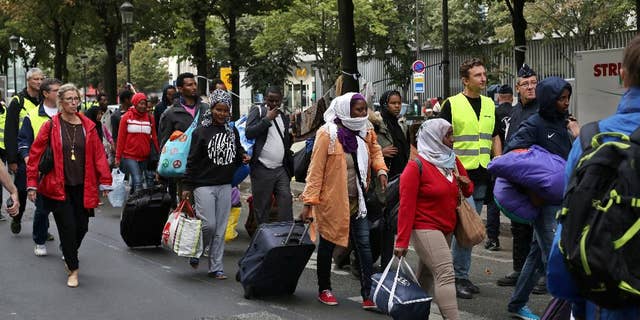 NEWYou can now listen to Fox News articles!
PARIS – The Latest on the flow of migrants into Europe (all times local):
12:15 p.m.
The most prominent domestic critic of German Chancellor Angela Merkel's approach to the migrant crisis is insisting that he won't give up his demand for a cap on refugee numbers.
Bavarian governor Horst Seehofer, who leads the Bavarian branch of Merkel's conservative bloc — the Christian Social Union — has urged a tougher approach for the past year. Since an embarrassing defeat for Merkel's party in a Sept. 4 state election in eastern Germany, he has redoubled calls for an annual cap of 200,000 on new refugee arrivals.
Merkel has rejected those calls. But Seehofer was quoted Friday as telling the weekly Der Spiegel: "We will not forego the upper limit of 200,000. This is simply about our credibility."
Germany holds national elections this time next year
___
9:20 a.m.
Police and city officials are evacuating at least 1,600 migrants from Afghanistan, Sudan, Eritrea and elsewhere who have been living on the streets of northern Paris for weeks, authorities said, in the latest of a string of attempts to find solutions for Europe's migration crisis.
City Hall said two operations were carried out Friday morning on a stretch of pavement underneath an elevated metro line not far from the Montmartre neighborhood. One focused on about 80 women and children in the makeshift camp, while the other focused on the men, according to a statement from City Hall.
An official with the Paris regional administration said more than 1,000 people had been transported to temporary shelters by mid-morning, while authorities estimate about 1,600 to 1,800 migrants had been living at the site overall. They are being bused to 74 sites around the Paris region where authorities will give them food and medical treatment and help those who are eligible apply for asylum.
.