The Latest: German lawmaker foresees period of instability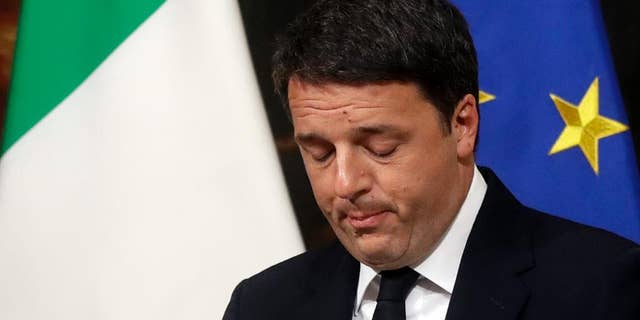 NEWYou can now listen to Fox News articles!
MILAN – The Latest on the Italian referendum (all times local):
9:50 a.m.
A senior European Parliament lawmaker from Germany says Italy's reform referendum heralds a period of instability and is a setback for those who want to see reform in Europe.
Italian Premier Matteo Renzi announced his resignation after losing Sunday's referendum on constitutional reforms. Asked what that means for Europe, Manfred Weber, the leader of the main conservative group in the European Parliament, told ZDF television: "Initially, a phase of instability now lies ahead of us — how will one of the biggest countries in the European Union now stabilize itself?"
He added that "it is also a setback for those who want readiness for reform, those who want European countries to change. That is the only way we can deal with globalization."
Luxembourg's foreign minister, Jean Asselborn, said the vote was an Italian domestic issue and he doesn't see a defeat for Europe. He told German news agency dpa: "Italy voted on a reform. It would be wrong to extrapolate that now to the European level. It was a domestic political argument."
He added, however, that "it would be bad for the euro if the government crisis dragged on for a long time."
___
9:30 a.m.
Italy was plunged into political and economic uncertainty following voters' resounding rebuke of Premier Matteo Renzi's proposed constitutional reforms.
Renzi announced he would quit following Sunday's referendum vote, in which 60 percent of voters rejected his reforms and signaled they wanted a change in political direction. Renzi is expected to hand in his resignation to President Sergio Mattarella later Monday.
The Milan Stock Exchange opened down 2 percent, but many bank shares were suspended due to excessive volatility meaning the hit could be even deeper.
The results hit Italy's sovereign debt, increasing the spread on Italy's 10-year bonds to 2 percent, from 1.7 percent on Dec. 1 and a record low of just over 1 percent last March and April.