The Latest: Dutch counterterror chief praises police actions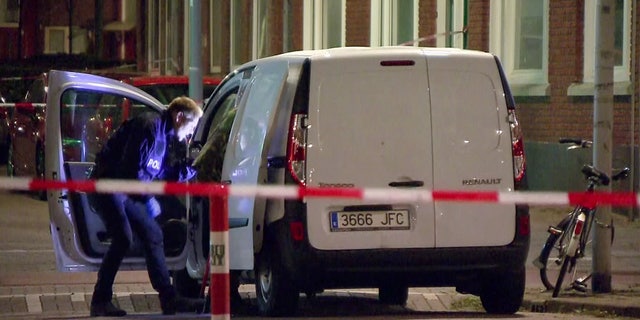 ROTTERDAM, Netherlands – The Latest on the investigation into the threat in the Dutch city Rotterdam (all times local):
11:45 a.m.
The Dutch counterterror chief is praising police for their actions after they arrested a suspect in an investigation into a terror threat against an American band's concert in Rotterdam and detained a van driver near the concert venue.
Police say that a 22-year-old suspect was arrested in the early hours of Thursday in Brabant province, south of Rotterdam. Late Wednesday, the driver of a van with Spanish license plates that was carrying a number of gas canisters was detained in Rotterdam.
Police said Thursday that the van driver was a mechanic who was likely drunk at the time. A search of his home uncovered nothing to link him to the terror threat, police said.
In his first public comment about the events in Rotterdam, National Counterterror Coordinator Dick Schoof said in a tweet: "Police action alert, appropriate for the current threat level."
___
9:15 a.m.
Dutch police say they have detained a man in the eastern Brabant province in connection with a threat that forced the cancellation of a concert by an American rock band in the port city of Rotterdam.
Police spokesman Roland Ekkers says a 22-year-old man was detained in the early hours of Thursday. No further details about his arrest were immediately available.
U.S. band Allah-Las had to cancel a gig in Rotterdam at the last minute Wednesday after Spanish police tipped Dutch authorities off about a terror threat. A Spanish man in a white van containing some gas canisters was detained for questioning near the concert venue hours later.
Ekkers said the Spanish man was drunk and will be questioned later. Ekkers says it is "not likely" that suspect is a terror threat.
___
8:50 a.m.
Dutch police are continuing investigations into a threat to a concert venue that prompted the cancellation of a show by an American rock band, as well as into the driver of a Spain-registered van found to contain gas canisters just a few hundred meters (yards) from the venue.
Spokesman Gijs van Nimwegen said police would issue an update on the investigation early Thursday.
The concert by Los Angeles band Allah-Las in the city of Rotterdam was called off Wednesday night after Spanish authorities tipped Dutch police about a possible threat to the concert.
Two hours later police detained the driver of the van.
Rotterdam Mayor Ahmed Aboutaleb said late Wednesday it was too early to know if the Spanish van was linked to the terror threat.