The Latest: Details released of agreement on Syria's Idlib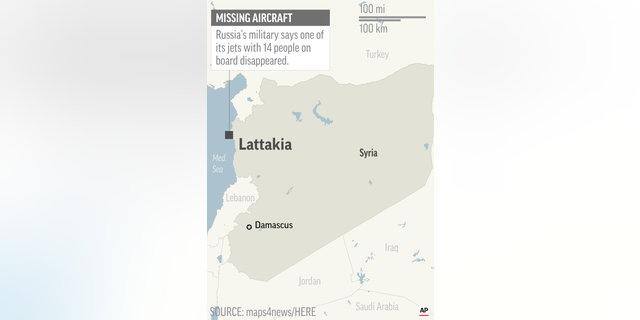 MOSCOW – The Latest on the disappearance of a Russian military aircraft over the Mediterranean and other issues related to Syria (all times local):
11:45 a.m.
A pro-government Syrian newspaper says the agreement reached between Russia and Turkey over the northwestern rebel-held Syrian province of Idlib envisions three stages in returning Damascus government institutions to the area.
The daily Al-Watan reported on Tuesday that the agreement struck in Sochi the day before also calls for the establishing of a demilitarized zone along all the front line in Idlib by Oct. 15. The rebels are to hand over their heavy weapons under the supervision of Russia and Turkey by Nov. 10.
The paper says the third phase will see government institutions return to the rebel-held region after militants withdraw from residential areas.
The agreement between the leaders of Russia and Turkey on Monday is thought to have averted an all-out offensive by government forces to retake the last remaining rebel stronghold in Idlib.
___
11 a.m.
Russia's Defense Ministry says one of its reconnaissance aircraft with 15 people on board has been brought down by a Syrian surface-to-air missile over the Mediterranean Sea. Rescuers are searching for wreckage but do not expect survivors.
The Russian military said on Tuesday that the plane was hit by accident by one of the missiles, which were aimed at four Israeli fighter jets that were attacking targets in the coastal province of Latakia late on Monday.
Russia said the Israeli aircraft "pushed" the Russian plane into the line of fire. The ministry accused the Israeli army of "intentional provocation" and said Israel did not warn Russia of its operation in the area until one minute before the strike.
Russia has been a key backer of Syrian President Bashar Assad and it has two military bases in the country, including one close to the Mediterranean coast.
___
8:15 a.m.
Russia's military says one of its aircraft with 14 people on board has disappeared over Syria's Mediterranean Sea coast.
The Russian Defense Ministry said in a statement Tuesday that the Il-20 jet went off radar 35 kilometers (22 miles) away from the coast late Monday as it was returning to the Russian base near the city of Lattakia. The military said the plane disappeared as four Israeli fighter jets were attacking targets in the area.
Officials did not immediately say if the plane was shot down.