The Latest: Conservative Muslims gather before French vote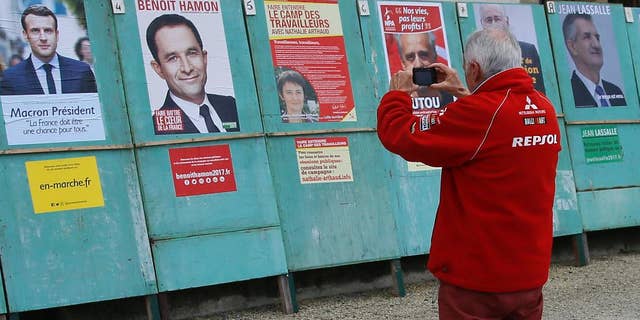 NEWYou can now listen to Fox News articles!
PARIS – The Latest on the presidential campaign in France (all times local):
6 p.m.
Muslims gathering for an annual event near Paris want to make sure their voices are heard in France's presidential election.
Tens of thousands of Muslims are expected at the three-day event this weekend organized by the ultra-conservative Union of Islamic Organizations of France. It includes merchant stalls, Quran readings, prayers and speeches by leading Muslim figures.
Some attendees said Friday that they think Islam has been demonized during the presidential campaign and that moderate Muslims have been wrongly lumped in with violent extremists.
Far-right presidential candidate Marine Le Pen said again this week that she wants to dissolve the UOIF as part of an effort to diminish the influence of fundamentalists.
UOIF head Amar Lasfar said on France-Info radio Friday that Le Pen is throwing "oil on the fire." He says the gathering appeals to a wide swath of France's estimated 5 million Muslims.
___
2:15 p.m.
The threat of new extremist attacks hangs heavy over France's upcoming presidential election. Voters will cast ballots under a state of emergency that is increasingly stitched into the fabric of French life.
Georges Salines wants to make sure the next president doesn't forget how the extremist violence that has claimed more than 230 other lives since 2015 has damaged the country.
Salines' daughter Lola was killed when Islamic State fighters stormed Paris' Bataclan theater in November 2015.
He now heads an association, called November 13-Fraternity and Truth, that has sent a letter to France's 11 presidential candidates asking them to lay out their counterterrorism plans.
Those candidates will all compete in the April 23 first-round vote, with the top two vote-getters moving on to the presidential runoff on May 7.
___
8:25 a.m.
French investigators are asking the European Parliament to lift far-right legislator Marine Le Pen's immunity so that she can face possible prosecution over suspected misuse of parliamentary salaries.
Le Pen, a leading candidate for France's presidential election April 23 and May 7, has immunity from prosecution as a European Parliament member.
The Paris prosecutor's office said Friday that investigating judges issued the request, and it is being transmitted by the French government to the European Parliament.
Le Pen said Friday on Francetvinfo that it's "the normal procedure." She has called the accusations unfounded.
The case concerns suspicions that Le Pen and others in her anti-immigration National Front party used parliamentary aides for party activity while they were on EU-financed salaries.
The European Parliament last month lifted her immunity in another investigation, over tweeting gruesome images of Islamic State violence.