The Latest: China, Japan urge N. Korea to avoid provocations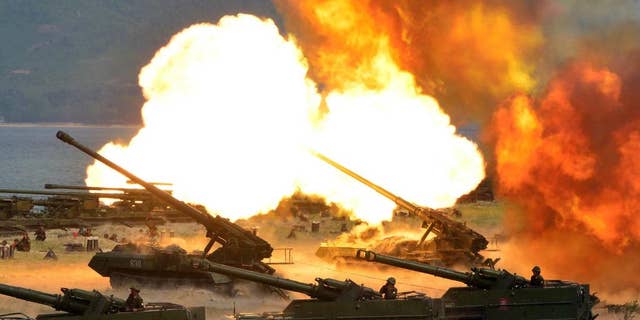 SEOUL, South Korea – The Latest on tensions on the Korean Peninsula (all times local):
5 p.m.
The Chinese envoy for North Korea says China and Japan have agreed to coordinate in seeking to denuclearize the Korean Peninsula and in urging North Korea to refrain from making further provocations.
China's special representative for Korean Peninsula affairs, Wu Dawei, held talks Wednesday with his Japanese counterpart, Kenji Kanasugi, amid rising tensions and speculation that North Korea may soon carry out another nuclear or missile test.
Wu said the two sides also agreed on the importance of using peaceful means in resolving the problem. He said China opposes "war and unrest" on the Korean Peninsula.
North Korea conducted live-fire artillery drills on Tuesday to mark the 85th anniversary of the founding of its army, while the Japanese and South Korean navies each conducted maritime exercises with the United States.
___
10:40 a.m.
The U.S. Navy says aircraft from a carrier strike group headed for the Korean Peninsula are conducting a joint exercise with Japan's Air Self Defense Forces in waters south of Japan.
A statement released Wednesday says Japanese aircraft are integrated with ongoing training by the USS Carl Vinson's air wing. The exercise includes air training and information sharing to improve joint operation and communication between the two militaries.
It follows a two-day exercise with two Japanese destroyers as the Vinson group passed through the Philippine Sea en route to the Koreas. The Navy said that both exercises demonstrate the ability of the U.S. and Japan to work together at sea to respond quickly to threats in the region.
The U.S. is sending the Vinson to waters near the Korean Peninsula in a show of force amid concerns about North Korea's nuclear and missile development. The carrier group will conduct joint exercises with the South Korean military.
___
9:50 a.m.
South Korea says key parts of a contentious U.S. missile defense system have been installed a day after rival North Korea showed off its military power.
The work to set up the Terminal High-Altitude Area Defense system, or THAAD, within this year has angered North Korea, China and Russia, which see the system's powerful radars as a security threat.
South Korea said in a statement Wednesday that unspecified parts of THAAD were deployed. The statement said that Seoul and Washington have been pushing to get THAAD working soon to cope with North Korea's advancing nuclear and missile threats.
South Korea's Yonhap news agency says six launchers, some intercept missiles and at least one radar have been deployed.
Seoul says North Korea conducted huge live-fire drills Tuesday.