The Latest: Call for separatist coalition in Catalan vote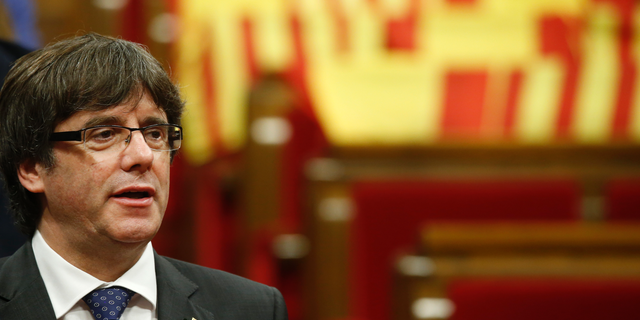 MADRID – The Latest on Catalonia's bid for independence (all times local):
12 noon
A civil society group that spearheaded the Catalan endeavor for secession from Spain wants all of Catalonia's separatist political parties to run in a joint pro-independence coalition in the Dec. 21 regional elections.
Assemblea Nacional Catalana is calling for the joint coalition to include jailed separatist activists and members of the deposed Catalan cabinet as candidates.
The parties have until midnight Tuesday to register an interest in forming coalitions.
Pro-secession parties held a slim majority in the Catalan Parliament before it was dissolved by Spanish authorities after it voted for a declaration of independence. Judges are gauging possible rebellion charges against the former Catalan separatist officials. Some of them are fighting extradition in Belgium.
Recent opinion polls have forecast a tight electoral race between parties for and against the independence.
___
9:15 a.m.
Ousted Catalan president Carles Puigdemont has criticized the passivity of European politicians in showing solidarity with the deposed and jailed government of Catalonia.
In an interview Tuesday in Brussels with Catalan public radio, the separatist leader says there is an "absolute disconnect between the interests of the people and the European elites" and that Catalonia's problem is an "issue of human rights that requires maximum attention."
Puigdemont is fighting extradition to Spain, where other members of the ousted Cabinet have been sent to jail while awaiting the results of a probe for allegedly weaving a strategy to secede from Spain.
The Spanish central authorities are now in direct control of the northeastern region, where early polls on Dec. 21 are shaping into an electoral battle between separatists and unionists.