The Latest: British man not sure why he posed with hijacker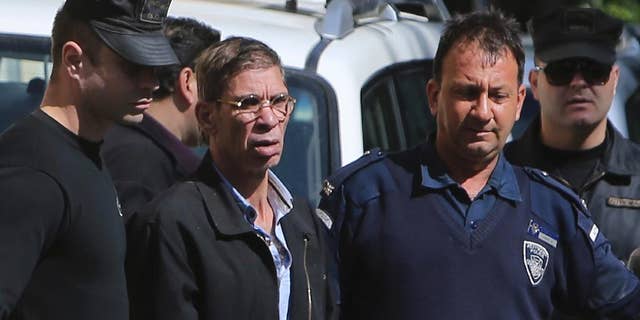 LARNACA, Cyprus – The Latest on the plane hijacking from Alexandria, Egypt, to Cyprus. (all times local):
12:15 p.m.
A British man who was pictured with a man who hijacked an EgyptAir plane says he's not sure why he posed for the bizarre photo.
Ben Innes told The Sun newspaper he wanted to take "the selfie of a lifetime" while the hijack was unfolding at a Cyprus airport.
The photo of Innes standing next to the hijacker with what looked like an exposed suicide vest went viral on social media within hours. The vest turned out to be fake and all the plane's passengers and crew were released unharmed Tuesday. The hijacker has been arrested.
Innes, 26, told the newspaper in a story published Wednesday that he had been texting his mother throughout the ordeal. He says "I figured if his bomb was real I'd nothing to lose anyway."
___
11:45 a.m.
A Cyprus court on Wednesday ordered the detention for eight days of an Egyptian man who admitted to hijacking a domestic EgyptAir flight and diverting it to the east Mediterranean island nation by threatening to blow it up with a fake explosives belt.
Police prosecutor Andreas Lambrianou said the suspect, whom Cypriot and Egyptian authorities had earlier identified as 59-year-old Seif Eddin Mustafa, faces charges including hijacking, illegal possession of explosives, kidnapping and threats to commit violence.
Judge Maria Loizou said she found the police's request for the maximum eight-day detention necessary because of fears that the suspect might flee and the fact that he admitted to the hijacking in a voluntary statement to police.
Tuesday's dramatic hijacking ended peacefully when police arrested the suspect after all 72 passengers and crew aboard the Airbus A320 plane were released.