The Latest: Beirut protests to Riyadh over PM's resignation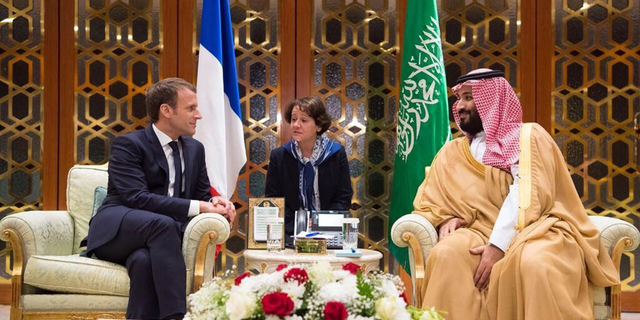 BEIRUT – The Latest on developments surrounding Lebanon's Prime Minister Saad Hariri who resigned from Riyadh last week and the crisis between Saudi Arabia and Lebanon (all times local):
12:50 p.m.
A senior Lebanese official says Beirut has formally told Saudi Arabia that the way Lebanese Prime Minister Saad Hariri resigned — in a televised statement from Riyadh — is "unacceptable" and requested his return to the country.
The official says the Lebanese position was conveyed by President Michel Aoun to the Saudi charge d'affaires in Lebanon, Walid al-Bukhari, at the presidential palace on Friday.
The official spoke to The Associated Press on condition of anonymity in line with regulations.
Aoun was meeting with foreign ambassadors to discuss Hariri's abrupt resignation last Saturday. Hariri, who cited Iran's meddling in the region, has not returned to Lebanon since.
The resignation has thrown the tiny nation in turmoil and officials have demanded his return, suspecting he is being held in the Saudi capital against his will.
—Zeina Karam in Beirut.
___
12:35 p.m.
Scores of citizens from Gulf Arab countries have started leaving Lebanon after their governments ordered them out of the Mediterranean country amid a major Riyadh-Beirut crisis.
Dozens of men and women from Saudi Arabia, Kuwait and Bahrain were seen leaving Lebanon on Friday morning through Beirut's Rafik Hariri International Airport.
Saudi Arabia, Kuwait, Bahrain and United Arab Emirates have ordered their citizens to leave Lebanon.
Lebanese Prime Minister Saad Hariri shocked his country Saturday when he announced in a televised statement from Saudi Arabia that he was resigning. The unexpected move led to rumors that he is being held in Saudi Arabia against his will.
___
11:10 a.m.
France's foreign minister says French authorities believe Lebanese Premier Saad Hariri is "free in his movements" and not in custody in Saudi Arabia.
Jean-Yves Le Drian told Europe-1 radio on Friday that "to our knowledge" Hariri is not being held by Saudi authorities. Hariri abruptly announced his resignation last week in a television appearance from Saudi Arabia, and has not returned to his country since.
Le Drian said Hariri traveled from Saudi Arabia to the United Arab Emirates and back earlier this week "so we think he is free in his movements, and it is up to him to make his choices."
Le Drian's office wouldn't say where the French information came from.
French President Emmanuel Macron discussed Lebanon, a former French protectorate, during a surprise visit Thursday to Riyadh.