The Latest: At rally, Israel's Netanyahu lashes out at media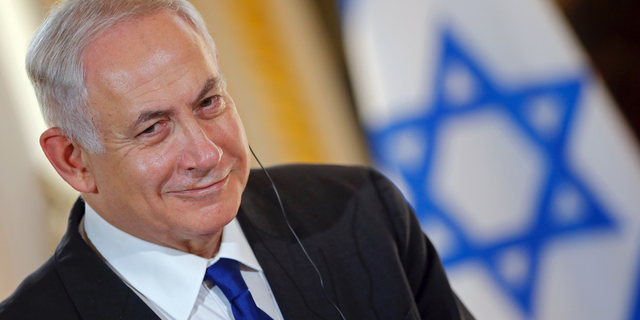 TEL AVIV, Israel – The Latest on the rally by Israel's ruling Likud Party in support of beleaguered Prime Minister Benjamin Netanyahu (all times local):
8:45 p.m.
Israel's embattled prime minister is accusing the media of leading a campaign to oust him as he battles a series of corruption allegations.
Benjamin Netanyahu spoke to a gathering of hundreds of his Likud Party supporters in Tel Aviv on Wednesday.
He says that the "leftist" media is teaming up with the political opposition to oust him and that they hope a police investigation will topple him because he cannot be defeated at the polls.
Netanyahu says: "The left, and the media, and they're the same thing."
He also added that they are on "an obsessive, unprecedented hunt against me and my family to carry out a regime change."
He added: "Their aim is to apply illegitimate and nonstop pressure on law enforcement so they file an indictment at any price."
___
8:30 p.m.
Israel's ruling Likud Party has kicked off a rally in support of Prime Minister Benjamin Netanyahu in what it hopes will be a show of force by the beleaguered Israeli leader as he battles a slew of corruption allegations.
Likud leaders were putting heavy pressure on party activists to attend the rally on Wednesday evening in Tel Aviv.
Hundreds of supporters packed a Tel Aviv convention center ahead of Netanyahu's expected speech. Some supporters held signs and chanted "Bibi, King of Israel," using the prime minister's nickname.
Party leaders described it as an attempt to counter a vicious campaign by a hostile media and overzealous police and state prosecution. But the gathering is also a test of Netanyahu's popularity and control over his party.