The Latest: At least 30 dead, 200 hurt in Iran-Iraq quake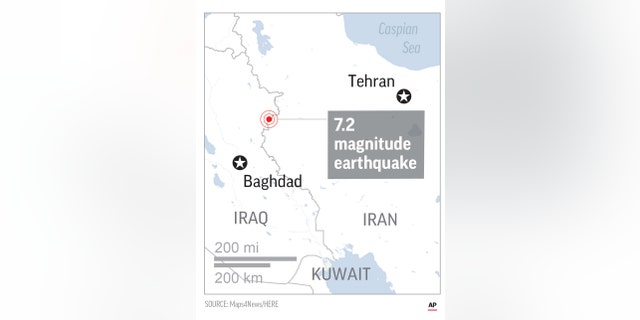 TEHRAN, Iran – The latest on magnitude 7.2 earthquake that hit Iran-Iraq border region (all times local):
1:50 a.m.
An Iranian official says at least 30 people died in Iran when a magnitude 7.2 earthquake hit near the Iran-Iraq border region. Deputy Gov. Mojtaba Nikkerdar of Iran's Kermanshah province also says more than 200 people suffered injuries.
Iranian TV says Iraqi officials have reported at least six people dead on Iraq's side of the border from Sunday's quake. It says the officials also report more than 50 people were injured in Iraq's Sulaymaniyah province and about 150 were hurt in Khanaquin city. There has been no official report from Iraq's government.
The U.S. Geological Survey says the quake was centered around 19 miles (31 kilometers) outside the eastern Iraqi city of Halabja.
Iran's semi-official Iranian ILNA news agency says at least 14 Iranian provinces were affected.