The Latest: 2 Myanmar journalists arrested in Bangladesh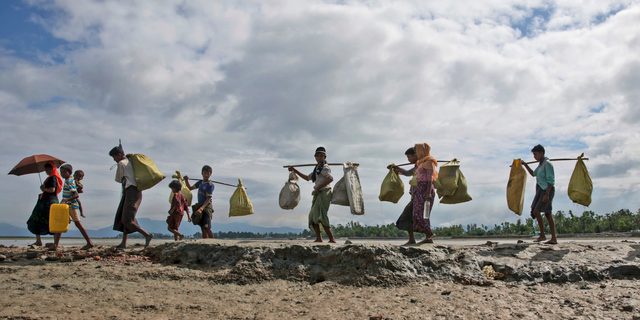 TUMBRU, Bangladesh – The Latest on the violence in Myanmar and the exodus of Rohingya Muslims into Bangladesh (all times local):
6 p.m.
A German magazine says two journalists from Myanmar who were covering the flight of ethnic Rohingya to Bangladesh have been detained by Bangladeshi police for the past week.
GEO magazine said photographer Minzayar Oo and his assistant, Hkun Lat, have been denied bail since being detained on Sept. 7.
Cox's Bazar police chief Ranajit Barua confirmed the arrests and said the two had violated immigration rules by entering Bangladesh on tourist visas and working as journalists. He described them as acting against Bangladesh's interests and said they face up to seven years in jail if found guilty.
GEO said its editorial board was deeply concerned about the two journalists' continued detention.
It said Minzayar Oo is an award-winning photographer whose work has been published widely.
Nearly 400,000 Rohingya Muslims have fled from violence in Buddhist-majority Myanmar to Bangladesh in the past three weeks.
___
3:35 p.m.
The U.N. children's agency is estimating that 240,000 children have fled Myanmar's Rakhine state into neighboring Bangladesh over the last three weeks.
UNICEF spokeswoman Marixie Mercado says that figure — amounting to about 60 percent of the estimated 391,000 total refugees — includes about 36,000 children aged under 1 year old. She says the agency also estimates 52,000 pregnant and lactating women.
Mercado says that includes an estimated 1,100 unaccompanied minors who had crossed over the past week.
She spoke at a regular briefing in Geneva on Friday that included comments from many U.N. agencies that were addressing the crisis in Bangladesh.
Mercado says: "As everybody here is going to tell you, the needs are seemingly endless and the suffering is deepening."
Chris Lom, Asia-Pacific spokesman for the U.N.'s International Organization for Migration, said by phone in the briefing that the figures amounted to rough estimates, adding "there's not somebody with a clipboard registering them" as the people cross the border.