Thailand's King Bhumibol, world's longest-reigning monarch, dead at 88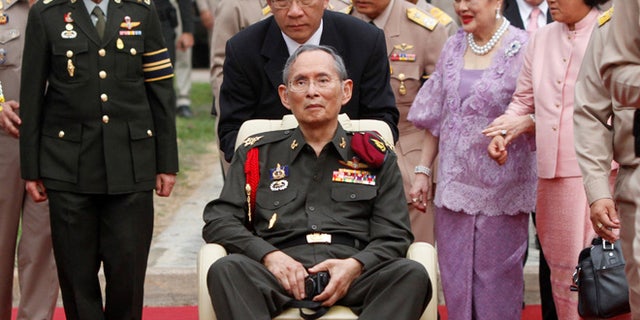 BANGKOK – Thailand's King Bhumibol Adulyadej, who died Thursday after a 70-year reign, was historically an important bridge in his nation's close, but recently strained, relations with the United States.
Bhumibol was born in the U.S. and was an important ally for Washington in combating the spread of communism in Southeast Asia during the Cold War. He met with six sitting U.S. presidents, starting with Dwight Eisenhower in 1960 and ending with President Barack Obama in 2012.
Bhumibol's passing at age 88 won't set back those ties. The U.S.-Thai relationship dates back over 180 years, and Washington wants Bangkok to remain a bridgehead for its outreach to the region. But his death comes amid uncertainty about the direction of the relationship following a 2014 military coup that prompted Washington to curb high-level government engagement.
Bhumibol had no formal political role, and he made his last overseas trip decades ago, but he was instrumental in shaping modern Thailand and its international profile. He made two state visits to the United States in the 1960s, and addressed a joint meeting of Congress.
"His Majesty the King was a close friend of the United States and a valued partner of many U.S. presidents," Obama said in a statement Thursday. "The American people and I stand with the people of Thailand as we mourn His Majesty the King's passing, and today we hold the Thai people in our thoughts and prayers."
Bhumibol was born in 1927 in Cambridge, Massachusetts, at a hospital affiliated with Harvard Medical School, where his father, Prince Mahidol of Songkhla, studied. A square in Cambridge is named for Bhumibol. Secretary of State John Kerry said that would be an "enduring memorial to the special bond he created between our peoples."
Bhumibol ascended the throne in 1946, and first visited the U.S. as king in 1960 at the start of a 15-country tour of the West that established him on the international stage and helped cement his standing at home. Images of the visit remain ubiquitous in Thailand to this day: the king and his glamorous wife, Queen Sirikit, seated alongside Elvis Presley on the set of "G.I. Blues" at Paramount studios; the king playing jazz saxophone alongside famed clarinet player Benny Goodman; the king standing in a convertible limousine on a ticker tape parade through New York.
"The Americans went all out with a mix of soft entertainment and gushing political recognition that put Bhumibol in a light comparable to that of the West's most powerful leaders," Paul Handley wrote in a biography of Bhumibol, "The King Never Smiles."
It was a time when the U.S. wanted a trusted ally in Southeast Asia as its fears over the spread of communism that would culminate in the Vietnam War were intensifying.
Bhumibol visited again in 1967, and this time was focused more heavily on winning U.S. support for the Thai military as it grappled with a communist insurgency. Thailand would go on to send troops to fight in Vietnam, and it provided bases for the U.S. Air Force.
Desmond Walton, senior director at the Bower Group Asia consultancy and a former U.S. military attache to Thailand, said it was strategic interests that drove the U.S. and Thailand together, but Bhumibol played an instrumental role and provided an emotional bond between the two nations. When Obama visited him in 2012 at the Bangkok hospital where the king spent much of the last decade of his life, they together leafed through an album of photos of the king's meetings with U.S. presidents.
The strategic importance of Thailand to the U.S. diminished after the Vietnam War, but relations remained close. The path ahead, however, remains clouded by uncertainty about when the country will return to civilian rule, which will be required for Washington to normalize ties once more.