Thailand youth soccer team, coach found alive in cave after massive search, official says
The dozen boys of a youth soccer team and their coach have been found alive in a cave complex after they went missing over a week ago, a Thai official said Monday.
Thai provincial governor Narongsak Osatanakorn said that the group is safe and being rescued after a massive search operation took place in the Tham Luang Nang Non cave in Chiang Rai province, located in the northern part of the country.
"We found them safe. But the operation isn't over," he said, according to The Associated Press.
Narongsak said the divers located the missing about 300-400 yards past a section of the cave that was on higher ground and was thought to be where the team members and their coach may have taken shelter. Thai Navy SEAL's posted a video of the group on Facebook.
Early Tuesday, Narongsak said medics had conducted an "informal" examination and found most of the group to be in stable condition.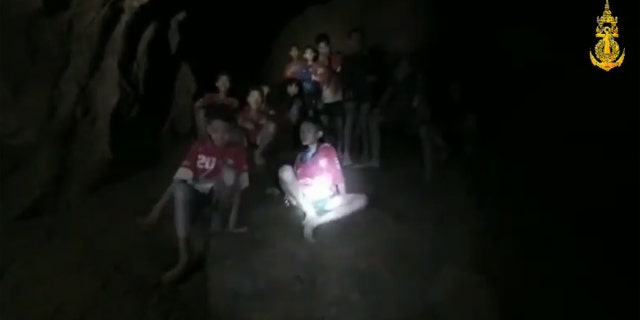 "Maybe some of the boys have injuries or light injuries and would be categorized as [serious] condition," he said. "But no one is in [critical] condition."
The boys, aged 11 to 16, and their 25-year-old coach entered cave on June 23. Heavy rains that flooded key passages trapped the soccer players and made a difficult search for them.
Divers were stymied again and again by rising water that has filled sections of the cave and forced them to withdraw for safety reasons. On Monday, the Thai Navy SEALs' posted to Facebook that they have the divers had reached a bend where the half-mile-long passage splits in two directions and placed lines to carry electricity and water.
When water levels dropped Sunday, the divers went forward with a more methodical approach, deploying a rope line and extra oxygen supplies along the way.
In addition to the divers, teams were working to pump out water as well as divert groundwater. Monsoon rains continued in the area on Monday, even as workers pumped water out of the cave complex, according to Sky News.
THAILAND CAVE RESCUE CLEARS HURDLE, DIVERS REACH PASSAGEWAY THAT MAY LEAD TO YOUTH SOCCER TEAM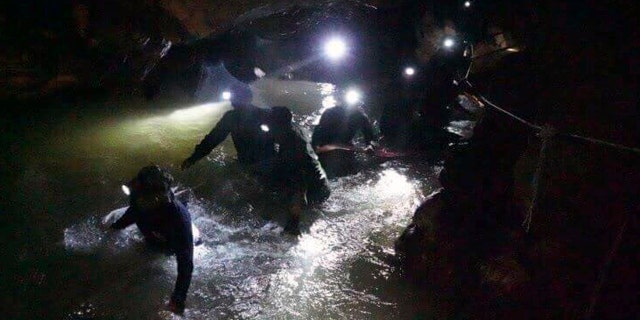 Search crews, including a U.S. military team, combed a mountainside looking for fissure that might lead to shafts that might serve as a back door to the blocked-off areas where the team was believed to be sheltering.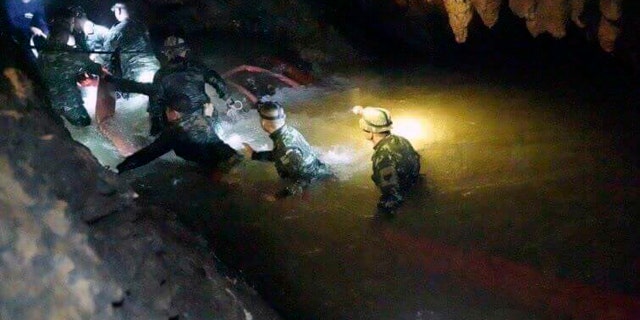 The cave complex extends several miles and has wide chambers and narrow passageways with rocky outcrops and changes in elevation.
The chamber is about 2.5 miles from the entrance of the cave, which is thought to be about 4 to 5 miles long and cut into a mountainside in far northern Thailand near the border with Myanmar.
The Associated Press contributed to this report.