Thai police look for suspects after bombs hit tourist sites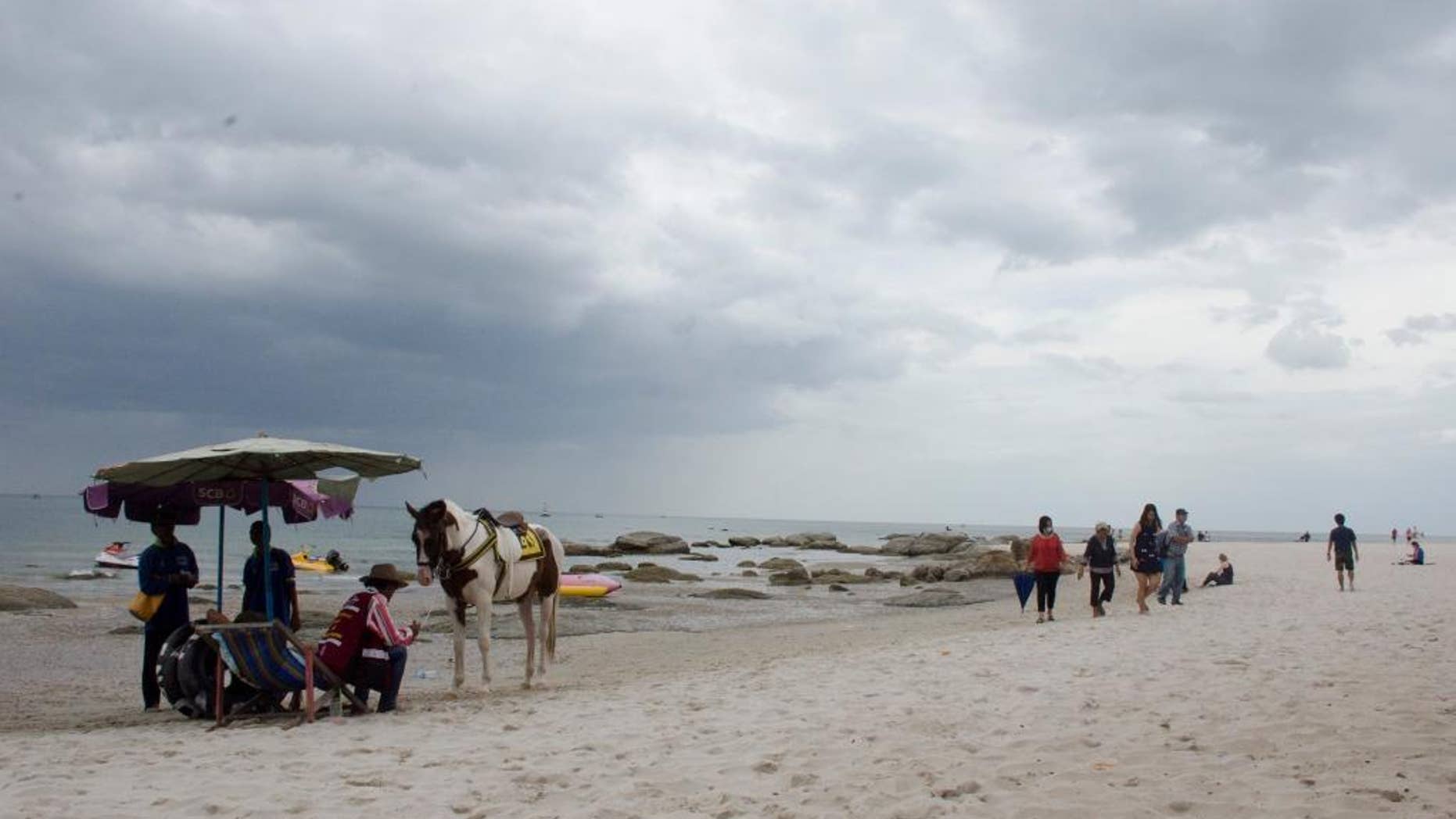 HUA HIN, Thailand – Thais and tourists headed warily into the main part of a big holiday weekend Saturday as police looked for suspects and a motive behind a series of blasts that shook resort towns across Thailand, killing four people and wounding dozens more.
There was no claim of responsibility for the attacks Thursday and Friday, which followed a successful referendum last weekend on a new constitution that critics say will bolster the military's power for years to come.
The violence appeared aimed at dealing a blow to the country's tourism industry, which brings in crucial income to the government. One small bomb exploded on a beach in Patong on the island of Phuket and four others rattled the seaside resort city of Hua Hin, prompting businesses to shut their doors, streets to empty and anxious tourists to huddle inside their hotels.
Eleven foreigners were wounded in the blasts, including nationals of Austria, Germany, Italy and the Netherlands.
"We hope we may have some suspects today or tomorrow," Police Gen. Pongsapat Pongcharoen, a deputy national police chief, told reporters Saturday. He did not elaborate, but said police were gathering evidence and that international militant groups were not believed to be behind the attacks.
He said the perpetrators are believed to belong to the same networks and still inside the country. Police said firebombs also triggered blazes at markets and shops in six places, including Phuket, Trang, Surat Thani, Phang Nga and a souvenir shop in the tourist town of Ao Nang, Krabi, a seaside province known for its stunning limestone cliffs.
Speaking late Friday, Prime Minister Prayuth Chan-ocha said the attacks "struck at the hearts of all Thai people."
Royal Thai Police Col. Krisana Patanacharoen also said Friday it was "too early to conclude" who was behind the attacks. But he said the bombings followed "a similar pattern used in the southern parts of the country" — a reference to a low-level insurgency in the country's Islamic south that has ground on for more than a decade and killed more than 5,000 people.
Southern militants fighting for greater autonomy have carried out sophisticated, coordinated attacks before, but most have hit three provinces in the far south that were not among those targeted this week.
The violence occurred just ahead of the first anniversary of the Aug. 17 bombing of Bangkok's Erawan Shrine, which left 20 dead and injured more than 120 others. Thai authorities said that bombing was revenge by a people-smuggling gang whose activities were disrupted by a crackdown, but analysts suspect it might have been the work of Uighur separatists angry that Thailand forcibly repatriated more than 100 Uighurs to China.
Foreign governments, including the United States, issued warnings urging travelers to use caution and avoid affected areas. Many of the tourists interviewed Saturday were resuming their holidays while keeping an eye for any sign of trouble.
"We feel pretty safe. At first we had a lot of mixed feelings, because we didn't know the area well enough," said Lexus Chlorad, 21, from New York, after arriving in Hua Hin on Friday afternoon.
Carl Suensson, 68, from Sweden, said Saturday that "today it's pretty OK, but yesterday was scary."
"We follow the news 24 hours. Wherever there's a lot of people, like the market, bars behind Hilton, the train station, we try to avoid it," he added.
The first bomb exploded in the southern province of Trang — an area full of beautiful beaches and tourist islands — killing one person and injuring six, according to police. Then on Thursday night, attackers in Hua Hin hid bombs on a busy street filled with bars and restaurants, planting them inside two potted plants and were detonated by remote control about half an hour apart.
One Thai woman was killed and about 20 people were wounded, 11 of them foreigners.
On Sunday, Thai voters approved a referendum on a new constitution that is supposed to lead to an election next year. Critics say it is undemocratic and is fashioned to keep the military in control for at least five more years even if a free election is held.
Friday's blast took place on the birthday of Thailand's Queen Sirikit. The junta has repeatedly said that defending the monarchy is a top priority, and the army and its allies are keen to ensure a smooth succession for Bhumibol, who is the world's longest reigning monarch.
Many foreigners living in Thailand got used to bouts of violence.
"I've seen it go up and down going through all the coups and everything. I'm just a little wary, but life goes on," said Gabrielle Boccer, a Swiss-Australian who's been living in Thailand for 25 years.
___
Pitman reported from Bangkok. Associated Press journalists Jerry Harmer in Hua Hin, Papitchaya Boonngok, Natnicha Chuwiruch and Kiko Rosario in Bangkok contributed to this report.