Texas officials keep wary eye on river levels engorged by heavy rainfall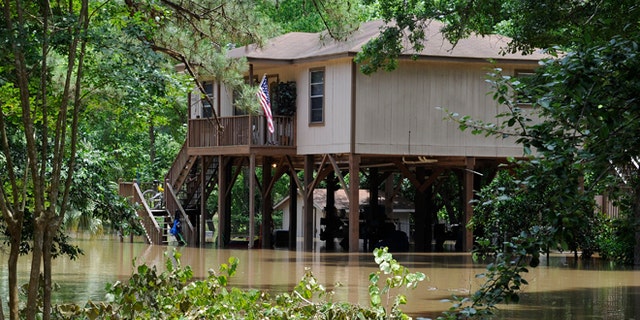 HOUSTON (AP) – Officials are closely monitoring the levels of rivers in Texas engorged by the deluge of last weekend.
The Colorado River in Wharton and the Brazos and San Jacinto Rivers near Houston are the focus of attention for officials as floodwaters from North and Central Texas move downstream toward the Gulf of Mexico.
Meanwhile, the death toll continues to rise as search teams dig through debris piles along rivers that raged through Central Texas and the Houston area. Bodies found in Hays and Blanco counties raised the confirmed death toll Thursday to at least 24, with 20 in Texas alone, and at least 14 more still missing.
The flood threat appeared to have eased along the Brazos River in North Texas, where it fell below flood stage Thursday night at Horseshoe Bend in Parker County.
But officials would continue to watch for any effects from Thursday night rains in the vicinity of Possum Kingdom Lake, said Parker County Emergency Management spokesman Joel Kertok.
The river level at Horseshoe Bend had fallen below the 21-foot flood stage to 20.9 feet Thursday night after the Brazos River Authority closed the floodgates on the Possum Kingdom dam upstream, Kertok said. The river crested at 23.6 feet about noon Thursday, almost 3 feet above flood stage, and Kertok said floodwaters lapped at the foundations of 11 homes but rose no further before beginning to recede.
But the worst is yet to come downstream on the Brazos. At Richmond, near Houston, where flood stage is 48 feet, the National Weather Service expected the river to top flood stage Friday morning and rise to 50 feet by late Friday night or Saturday. That would cause major flooding in Simonton, upstream from Richmond, and Thompsons downstream. Fort Bend County Sheriff Troy Nehls says residents of some parts of Simonton have been asked to leave.
The Colorado River at Wharton, where voluntary evacuations were underway in the city's low-lying west side, was at 39.5 feet Thursday night, a half-foot over flood stage. Forecasters say it could crest at 44 to 45 feet Saturday morning, causing major flooding.
The West Fork of the San Jacinto River was at 32 feet Thursday night, 8 feet above flood stage and was expected to remain in major flood for several days.
This week's record rainfall in Texas eased the state's drought and swelled rivers and lakes to the point that they may not return to normal levels until July, scientists said Thursday.
Just weeks ago, much of the state was parched with varying levels of drought. But the same drenching rainfall that paralyzed parts of Houston and swept away a vacation home with eight people inside also offered relief from a long dry spell.
Many cities were still in danger of flooding as heavy rain from earlier in the week poured downstream, pushing rivers over their banks.
"There's so much water in Texas and Oklahoma that it's going to take quite a while for those rivers to recede," said Mark Wiley, a National Weather Service meteorologist in Fort Worth, Texas.
If normal amounts of precipitation return, rivers will probably drop to average levels by the Fourth of July, he said.
"Six months ago, we were dying for this stuff," he said. "And now we're saying, 'Please, please stop.'"
Like us on Facebook
Follow us on Twitter & Instagram