Texas mother and daughters among those killed in Mexican family massacre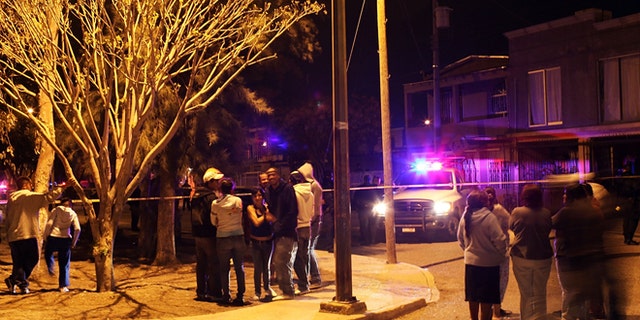 Three Texas residents were among those killed over the weekend in a gruesome series of attacks in the capital of the Mexican state of Tamaulipas, the U.S. Consulate in Matamoros confirmed to Fox News Latino.
Lourdes Gregorio Garcia Amaya and her two teenage daughters – Galilea and Mariana – were among the 15 people killed early Saturday in what is believed to be part of a battle between factions of the splintered Zetas Cartel who are fighting for control of Ciudad Victoria.
"We can confirm the deaths of three U.S. citizens in Ciudad Victoria, Tamaulipas, Mexico over the weekend. We extend our deepest condolences to family and friends, and stand ready to provide all appropriate consular assistance," said a U.S. Consulate spokesperson in an email.
"We regret this senseless violence and loss of life, including children. We stand with the Mexican government in its efforts to control violence," the spokesperson added.
Little is known about the Garcia Amaya family other than that they were visiting family in Mexico when gunmen entered the home where they were staying and killed them – and eight other family members – while they were sleeping.
Fox News Latino also reached out to the Tamaulipas Government's Communication Director, Ruben Dario Rios Lopez, who said his office was not allowed to provide information on the case.
Graphic images from the crime scene show bullet-riddled bodies strewn throughout the home.
A GoFundMe page has been set up to raise money for funeral expenses and to have the bodies of the Garcia Amaya's brought back to Texas.
"This three victims were assassinated (sic) while they visited family in Victoria. Their bodies have to be brought here tto (sic)Texas," Nina Del Aguila, who started the GoFundMe account, wrote on the page. "For now I cannot inform yall with the rest of the incident, its a nightmare we all living."
Besides the slaying of the 15 family members, in a separate act three people were killed in a nearby neighborhood in Ciudad Victoria.
Also, reports from the Police Ministry said that more attacks took place around the city overnight, including one on a bus station that left a 16-year-old dead. Assailants also attacked a home with a grenade and burned it down.
The violent Zetas Cartel has splintered into factions following the capture or killing of many of its leaders. Authorities say various factions are fighting for control of Ciudad Victoria, including a group called "Zetas Old School" and the so-called "Northeast Cartel," a grouping of factions led by the family of captured Zeta leader Miguel Angel Trevino Morales, or Z40.
Authorities say the battle for Ciudad Victoria began in late 2015 and has claimed at least 100 lives.
In another traditional Zetas bastion — the city of Nuevo Laredo on the Texas border — a series of cartel threats and internet warnings that people should stay off the streets created a climate of collective fear on Saturday. The messages warned of attacks on bars and businesses controlled by rival factions.
The Associated Press contributed to this report.
Like us on Facebook
Follow us on Twitter & Instagram