Texas high school football players claim they hit referee on coach's orders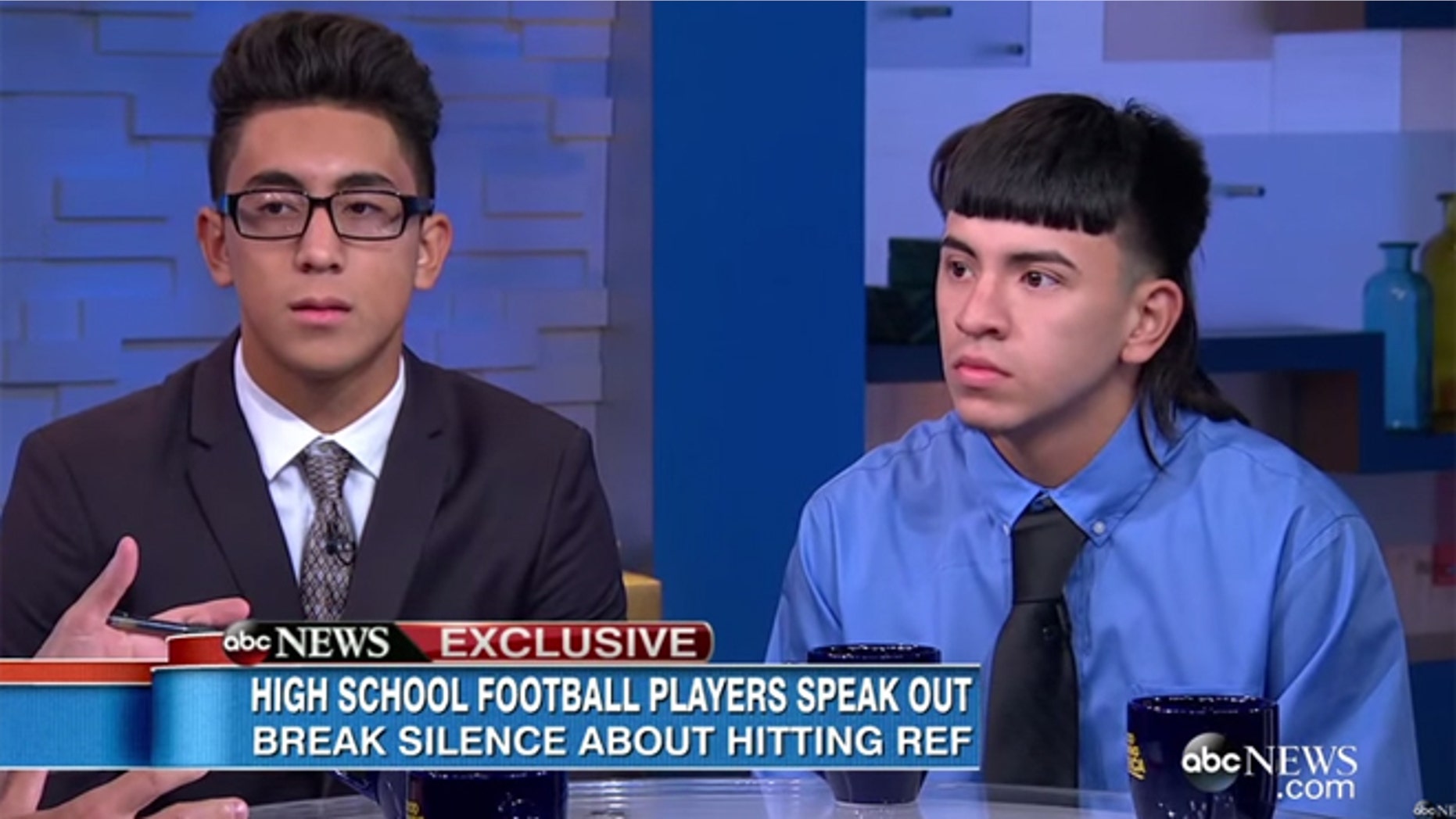 Two Texas high school football players who brutally tackled a referee claim that one of their coaches told them to do it. after allegedly using racial slurs and insulting teammates for speaking Spanish.
Victor Rojas and Michael Moreno, two players on South Texas' John Jay High School, said that assistant coach Mack Breed urged the teens to hurt the referee.
"You need to hit him," the players said they were told by Breed, who was further angered by a series of calls against the team. The ref "needs to pay the price," the players say he told them. "That guy needs to pay for cheating us."
"His emotions just got mixed into it," Moreno, 17, said on "Good Morning America" Friday. "He told us to do what we did."
The incident, which drew national attention earlier this month, was captured on camera during a game near San Antonio. In the video, Rojas slams the referee, Robert Watts, in the back and Moreno then spears him helmet-first when he is on the ground.
The attack led to their suspension and an investigation by local authorities.
The players claim that Watts used the n-word to describe one of the black players on the John Jay team and told a Latino player, "Speak English. This is America." The school district is filing suit against Watts, a referee of 14 years with the Texas Association of Sports Officials.
Breed has been placed on administrative leave.
During the interview on GMA, the two high school athletes apologized for hitting Watts. Rojas said he "can't explain" how it happened.
Moreno said the attack is "one of my biggest regrets," and that he only went through with it because he trusted Breed.
"Everyone sees me as this thug or gangster, [that] I did this because I'm a bad guy. That's not who I am," he said. "Underneath the helmet and the pads, I'm really a great kid."
He added, "I'm ready to face my consequences… I am greatly sorry for this, and I regret it greatly. I hope people can change their minds about us."